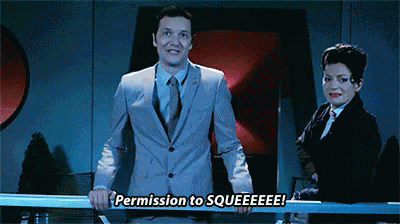 Hello, yes, we are friends now. No take backsies!
If it's new territory you're looking for then you've come to the right place! This place changes all the time I can't keep up with the maps. Seriously, I just got the new one drawn up! But that's a later problem.
Let's get the business side done first, shall we? Rules are important, I like them, they sometimes like me, you should definitely give them a read! There, not so bad. Any questions, concerns, fan geeking, or problems that can only be solved with the use of an oversized rubber mallet, don't hesitate to let me know!
Now, fantasy writers unite! Can we get a club going? Please? But also...
gestures wildly at avatar and profile
...Marvel! Yes! Please! Pretty please with extra pickles
and smooshed real flat
! You get infinite love if you get that reference. But, ahem, I will also take DC, Doctor Who, and Danganronpa.
What sorts of ideas do you have brewing? If I may be so bold as to ask. Can't wait to see what you bring to the ring!
Happy writing! :D
_________________
Rules
|
Posting Tips
|
Guide to CF
RP Profile
|
Characters
"Aster: Semi-master of Procrastination and Sage of Multitasking" ~ Yue
"Step aside Doctor Who, we have Asterous now~" ~ PaperMoon