Jules chuckled at his mention of some who lives in sunshine land. "Perhaps it isn't the abilities, but the circumstances surrounding them. Or maybe it's just our response to those circumstances. Maybe some people are just better at dealing. Or maybe they don't deal at all," she wondered about that, "Or maybe it's a combination. Who knows," she shrugged, glancing over at him. "At any rate, I made a promise to try to be better, so I guess I have to try, at least," she chuckled again.

It was quiet for a short time after her comment about this place, before they went on to talk about abilities again. She gave a small nod to his comment about not knowing anyone with abilities before coming here, unless they were doing a good job of hiding it. Perhaps they were. The aversion to being picked on and/or called names like freak was a pretty strong motivator to avoid letting people know you were different. It was the way of the world, not just for them, but for anyone who strayed to far from societal norms. It had always been that way. It probably always would be, at least to some degree.

She tilted her head a bit when he explained that his parents had to explain his freak out, and how he wasn't sure how they managed to make him not look like more of a freak than he was. To be honest, she wasn't exactly sure how to respond to that. "You know, I could say that I don't think you're a freak, which would be true, but it probably wouldn't mean much, all things considered," she paused, glancing over at him before looking back down, "But hey, at least here we aren't freaks. I mean, we are, I guess, but when everyone else is also a freak, then being a freak is normal, so really, we're just normal," she explained, although this was only partially true, considering that they were both still had things that set them apart, even among others with abilities such as theirs. That aside, however, it was still an improvement on their status among regular humans, even if the jury was still out on whether this place itself was an improvement.

There was a brief silence again and Jules' mind drifted to many things. She wondered briefly if her thinking so much bothered him, and if her thoughts were overwhelming or easy to block out. She was unsure about whether her being the only one around would make it easier to block out her thoughts, or if it would make them louder and more clear. Either way, she decided not to stay in her mind and let the silence drag on for too long.

She nodded to his statement that dreams were weird on their own, and chuckled at his mention of Freud and his attempts at understanding them. He wasn't wrong there. She shrugged at his apology for her having to go through that. "No need to apologize. I appreciate the thought, but it isn't like it was your fault. And anyways, I won't lie and say it's fine. It wasn't fine. It still isn't. I don't know if it ever will be. But I'm here, I'm alive, and I'm not giving up on the idea that some day I will learn to control it. Besides, if none of this had ever happened, I probably never would have met you, hmm?" she went from a somewhat distant and contemplative look to a smile at the end as she looked over at him.

She then turned the conversation to him and how his abilities had manifested, listening as he told her his own story. She felt bad for him as he explained what had happened. Being overwhelmed and having to run away to escape it was bad enough, but when you run and you still don't really escape, and then you end up isolated? That was even worse. "I'm sorry. That sound really hard," she replied honestly before chuckling, "I told myself I wasn't going to say something lame like that, but in the end, I said it anyways," she shook her head lightly. "Anyways, I'm glad you at least found something that helps, even if only a little. I really wish you could tell me that this place helped, too. But I get the feeling that isn't the case," she admitted.

She chuckled at his comment about selling the place and shrugged, "No worries. I'd rather you be honest so I know what to expect instead of giving me some kind of false hope," she assured him with a small smile, chuckling again at his welcome and apology for forgetting the party. "Ah, well, thank you. As for the party, I was rather looking forward to it, but I suppose I can forgive you. But just this once, alright? Don't forget next time," she was joking, going with his attempt at lightening the mood, trying to avoid worrying about what life would really be like here, if things would get better or worse. For once, she wished she could just be a normal girl, laughing with a friend about something stupid instead of worrying about abilities that weren't supposed to exist in the first place.

She was silent again for a short time before she spoke up again, "So... Is there anything fun to do around here? Or is it all dull and boring?" she asked, partly out of curiosity, and partly to prevent herself from letting her mind drift off again.
_________________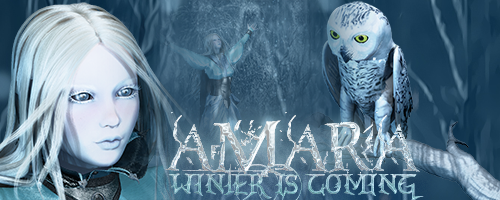 Thanks for the signature/avatar set, Fainy! <3
Check out my resume!
"The line between what brings us pain and what sustains us is far thinner than one imagines." - Klaus Mikaelson.