Jules looked up at the boy who appeared to be close to her age, her brown eyes taking in his appearance, albeit from an upside down angle. She apologized for dropping herself, apparently, at his feet, and turned herself so that she could look at him normally, rubbing the back of her neck in an embarrassed manner. She didn't miss the way he hesitated for a brief moment, almost as though thinking on something before snapping himself back to reality. She had no way of knowing exactly what he was thinking, so she didn't dwell on it, instead returning his smile with one of her own.

The boy responded to her apology with a rather philosophical answer. It didn't bother her, but it did amuse her somewhat, as she guessed that he was trying to make her feel better. She laughed lightly, an amused and friendly laugh rather than one that suggested mocking or any other such intention. "You're a nice person, aren't you?" she asked with a friendly smile. It was a total guess, but she hoped she was right. She was trying very hard not to become miss doom and gloom and start looking at everything and everyone in a cynical manner.

She waved a hand gently when he offered his hand to help her up. "Believe it or not, I really did sit down on purpose," she laughed, somewhat embarrassed. It was a very easy mistake to make, as there were no others sitting around out here. There usually weren't. She came out here occasionally, but she was generally alone when she did. "You can sit with me, if you want," she offered, patting the ground next to her. She'd come out here to read, but she was not entirely opposed to some good old fashioned human interaction.

"Glad to hear I didn't scare you off, then," she replied to his statement. She opted to let him finish speaking before she would introduce herself. He informed her that he had just arrived and apparently thought she had established herself around here. She guessed that wasn't entirely incorrect, as she was pretty quick to adapt, so she had gotten used to everything already. She doubted she had been here much longer than him, perhaps not even any longer, unless, of course, he'd meant he literally just arrived today, but this place seemed too structured to be bringing in random stragglers throughout the semester.

Adam informed her that he lived in Chicago, but she had her doubts that he was born there. He looked and sounded European. He was taller than she was, with a larger, more broad-shouldered build, golden hair, fair skin, and blue eyes. His voice was pretty heavily accented, too, so if she had to guess, he had at least spent a good portion of his childhood there. That, of course, was conjecture at best, as she currently had limited information to go on.

For her own part, she was just a little taller than average with a thin but curvy build, a fact that her somewhat layered clothing partially concealed. Like his, her own hair could be called golden, but it was a bit lighter than his, something akin to a golden blonde with some very light chestnut undertones. In contrast to his piercing blue eyes, her eyes were a deep, warm brown. Where he wore a simple track suit and beret, her own outfit was far from simple. She wore a mid-thigh length pale-pink skater skirt with plum-colored knee-high socks, mid-calf length slate-colored boots, a fitted off-white/cream colored shirt with a long plum-colored hooded cardigan that fell about two inches above the hem of her skirt.

She chuckled lightly at his joke, "Is that so? Hmmm. Now that you mention it, I think I might have heard about that," she replied in a seemingly thoughtful manner, "But are you really from Chicago?" She asked curiously, tilting her head curiously before shaking her head. "Sorry. Maybe I should save that question for a more appropriate time?" she apologized, although she wasn't really sure when an appropriate time was. Probably when it came more naturally and not as an almost blurted out question. Quickly moving on from the question, she gave another smile, "Nice to meet you, Adam. My name is Juliana, but you can call me Jules," she offered, "I'm from Philadelphia. I suppose one should be careful where they sit there, too. But what can I say? I like to live on the edge," she shrugged casually, smirking lightly, knowing that was quite far from the truth, or at least it had been.

She had never been much of a risk-taker. She was a good girl, a people-pleaser, the perfect daughter, and perfect student. Well, at least until she wasn't. Until she'd become a freak and everything spiraled out of control. Now here she was, acting like some kind of rebel when really she was doing all she could not to stand out, to fly under the radar. She didn't want to be popular, important, or perfect. She just wanted to be normal, or to at least have some semblance of normalcy. All things considered, that was likely a pipe dream, but hey, so was dating Chris Hemsworth and that had never stopped her.

"As for your earlier statement, I guess you could say I'm established, but I've really only been here a few weeks myself, so there are things I'm still figuring out," she explained. 'And things I'm trying to figure out that I probably shouldn't be,' she thought to herself before continuing aloud, "But hey, if I can help you figure anything out, I'm happy to try," she offered with a friendly smile. She tried not to let her mind wander back to the things she wanted to know about this place, instead, focusing on something a little more positive.

"So, what brought you out here, anyways?" she asked, seeing as how many of the other students stayed inside, using the many facilities the school offered rather than spending a great deal of time outdoors. "I'm at least mostly positive that you didn't come out here with the sole intention of almost getting tripped by me," she joked with a light smile.
_________________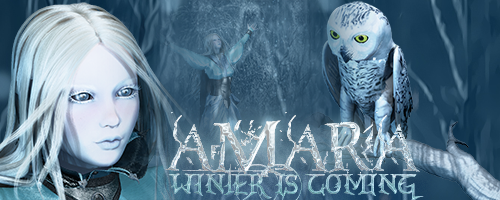 Thanks for the signature/avatar set, Fainy! <3
Check out my resume!
"The line between what brings us pain and what sustains us is far thinner than one imagines." - Klaus Mikaelson.