Aeris felt the warmth of Dren's arms around her and, for a brief moment, she felt warm and calm, as though everything was right in the world. That feeling, however, was gone as quickly as it had appeared, as Dren moved away from her and she was greeted once again by the cold darkness that surrounded them. She forced herself back to her feet and fought to calm the racing of her heart, her breathing slowly stabilizing. As she regained her composure, Dren approached the casket in the center of the room. The casket was open, she guessed from the blast she'd sent out moments before.

She looked around at the tendrils that fed into the casket, as though connecting whoever was inside to the outside world. But why? She eyed the tendrils that had been cut, their ends dripping with the glowing liquid that they had seen in the caves. A moment later the tendrils began to pulse, almost like a beating heart. She could feel the force pulsing through them and into the casket, into whoever was inside. Her eyes widened as she came to a realization. "We're feeding it." she concluded, speaking more to herself than to him. "Dren, you need to move!" she called out to him, but it was too late.

A hand reached out from the casket and wrapped around Dren's throat before a red blade was ignited inside, followed by a broken voice. "Damn it!" she cursed. What should she do? She couldn't hesitate to act. If she did, he would surely die. But what was she to do? If she used the Force to attack the Sith, she was just as likely to injure him as she was to save him. Nevermind the fact that, at present, she felt particularly drained. She thought this was likely due to the Sith, and those tendrils that were linked to him. That's it! The tendrils! she thought to herself, pulling out her lightsabers and igniting both white blades. She then threw them, using the Force to guide them, cutting the tendrils. She didn't think that this would return him to his previous state, but it would at least cut off his supply of Force energy. At the very least, it should prevent him from further draining them. That meant that she could at least use the Force without worrying about strengthening him further.

Once the sabers had severed each tendril, one returned to her hand while the other flew straight at the hand that was wrapped around Dren's throat. The Sith inside, who was undoubtedly shocked, if not wounded, by the tendrils being severed, had no time to move to block the attack and was forced to release Dren and pull his hand back. She thought this was likely to **** him off, but she could handle that. It was better than leaving Dren in his grasp, or trying to use the Force to wound him in hopes that he would let go and Dren wouldn't be injured in the process. This carried the lowest risk, she thought. At least it carried the lowest risk for Dren, anyways.

She caught the second saber, deactivating both before rushing towards him, using the Force to pull him away from the casket. "Are you okay?" she asked, kneeling beside him momentarily, her concern evident on her face. She examined him for a moment before standing and eyeing the casket, or rather the Sith who was pulling himself out of it. He slowly stood to his full height and eyed the two of them. Aeris watched him cautiously, her face holding a serious, somewhat dark expression.

"What... Are you?" the broken voice of the Sith spoke, "Not Jedi... Not Sith," His broken voice echoed the question that always lingered somewhere in her mind, an ever-present reminder that she didn't belong. "Join me. I will make you the most powerful Sith that has ever lived." he offered in the same broken, hoarse voice.

Aeris could have laughed at the offer, but she didn't. Instead, she ignored his words altogether. "You're Darkenn Pax, otherwise known as Darth Devorer." She stated, recalling information she'd found in the archives of a Sith Lord buried on the planet. It was said that he couldn't be killed, because even if he died, he would rise again and feast on his enemies. She thought it was the likely conclusion, so she made it without hesitation. "You're the one who was calling to us before. The one who made us see those things." She surmised. She paused, her face darkening as she finally answered his previous offer. "I would never join someone like you." she replied in a cold, matter-of-fact manner. "I'd rather die."

The Sith laughed, a dark, twisted, broken sound. It was, to be quite honest, almost terrifying. "You will not die. Not yet. No. Your fate will be much worse." a twisted grin appeared on his face before he stretched out a hand. A moment later the air crackled, charged with the Force. Lightning extended from his fingertips, but it wasn't aimed at her. It was aimed at Dren. She moved without thinking, standing between him and the lightning. Rather than being electrified, however, she held out her hands and effectively gathered the lightning into a sort-of ball, which she then directed back his way. The blast momentarily stunned him, long enough for her to ask Dren, "Are you okay?" before the Sith sent another blast of lightning, which she met with her own, filling the room with a loud chorus of crackling and sizzling.

"I don't know how long I can keep this up." she spoke to Dren, her voice strained and just loud enough for him to hear over the crackling, but not loud enough for the Sith to hear. She was tired. More than she wanted to admit. This place had already taken so much out of her. She didn't think she had it in her to win this fight. Not in this state. She would sure as hell try, for his sake, if not her own, but whether or not there was truly any hope of her winning, she wasn't sure.

She wanted to tell Dren to run, to save himself. She thought she could hold the Sith off long enough for him to get away. But then what? How would he get out of the caves? Where would he go? Their only hope to win was to work together. She didn't want to risk his life, but it seemed like there wasn't much of a choice. It would be illogical for her to throw her own life away trying to give him a chance to escape when, for all they knew, there was no escape. Their best chance, his best chance, was for them to work together. At any rate, she didn't think he'd run even if she told him to, so it was pointless to even think about it.

"You could have joined me. Instead, you will both die. You can't keep this up forever, and when you fail, you will both die. First the one you love, then you. And then... you will fuel my return to this world." he grinned, a sick and twisted sight.

Aeris clicked her tongue and glanced back at Dren. "Got any bright ideas?" she asked, hoping he would have something. After all, the Sith was right about one thing. She wouldn't be able to keep this up for much longer.
_________________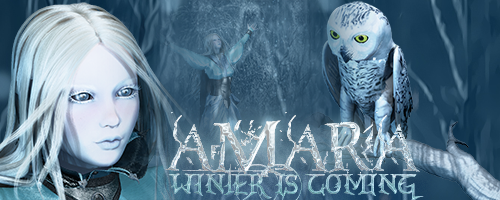 Thanks for the signature/avatar set, Fainy! <3
Check out my resume!
"The line between what brings us pain and what sustains us is far thinner than one imagines." - Klaus Mikaelson.