Alethea glanced at Thal-ion as he questioned why here. She didn't have an answer, not anything concrete or specific, anyways. She thought that they must have seen this as an important event. Perhaps they thought that whatever happened here gave people hope, that it, in some way or another, turned the tides of the war, despite how insignificant it might seem compared to some of the other battles. She could only guess. She wished they had a real answer. If they knew why, it would certainly make it easier to stop whatever it was that they were planning. Alas, they had no answers. Though that wouldn't stop her from looking for one in hopes of stopping them before it was too late.

She listened as he spoke, going over what he knew and talking to himself, trying to figure it all out. Perhaps he was right. It could very well be that their enemy wished to stop Qui-Gon Jinn or Obi-Wan Kenobi, or kill the Queen of Naboo and thus removing their influences from history in hopes that it would change the course of history in their favor. "Whatever the reason, whatever her plan was, we can be sure it won't bode well for the Jedi, or the Republic. As you said, whatever it is must start here," she concurred, falling quiet as she considered their options. Their ship was upgraded, and it was far more advanced than the ships of this time period, but it wasn't invincible. Even accounting for the Trade Federations' out dated weapons, the ship couldn't hold out forever. Certainly not with that many ships bombarding them all at once.

What they really needed was a distraction, something to keep the enemy off their tails long enough, and Thal-ion was quick to make a suggestion. They could wait until the Trade Federation began putting troops on the ground and sneak during the chaos by jamming their sensors. It just might work. Of course, as he pointed out, their time would be limited, but she didn't need an infinite amount of time to get by. "Five minutes is more than enough time. I think it might work," she agreed, nodding her head gently. She took them a little farther out, far enough away that they were likely to be ignored by the Trade Federation ships, but close enough that they could see what was going on and spring into action as soon as the chance arose.

"Can you take over for now?" she asked, handing over the controls to him. "Just keep us in this area," she instructed him, despite knowing that it probably wasn't a necessary statement. "I need to focus," she explained, closing her eyes, taking a deep breath, and reaching out through the Force. She reached out to the ships, and to the planet below. She used the Force to determine what the situation was like, and to try to find anyone who didn't belong. She found the two Jedi, both of whom were still alive, fighting droids. She also found the Trade Federation leaders who were in charge of this blockade. She waited, watching, until their thoughts told her that they planned to begin putting troops on the ground. She then pulled her mind back, at least enough to focus on the task at hand. She hadn't found anyone of notable suspicion, but she needed to focus her attention elsewhere for the moment.

"I'm taking over again," she informed him before switching things back over to her controls. She turned the ship around and slowly brought them back towards the planet, careful to stay out of range until the transports could be seen making their way down toward the planet. "Alright, let's jam their sensors," she said, waiting until he had done so before she proceeded, going from a slow speed to a speed that was fast enough for them to make it in time, but hopefully not fast enough to draw too much attention to them. She slipped them in among the transport vessels, mixing in with them as they approached the planet. She ducked between them, doing her best to stay hidden from the ships above. Once they were through the atmosphere, she broke away from the group, searching for a place to land that would suit their purposes, and keep them out of sight.

She found a clearing with enough nearby trees to hide them decently well and then put them down. "Alright. Shall we?" she asked, flipping a few more switches as she powered the ship down and then stood up from her chair. "Where do you want to begin? I will try to search for anyone suspicious through the Force, but it may take a little time to find them without deep meditation, and we don't have time for that right now," she explained as she headed for the ramp, ensuring as she did that her lightsabers were in place. "This isn't going to be easy," she stated the obvious somewhat absentmindedly, glancing at him and taking a deep breath. "May the Force be with us."
_________________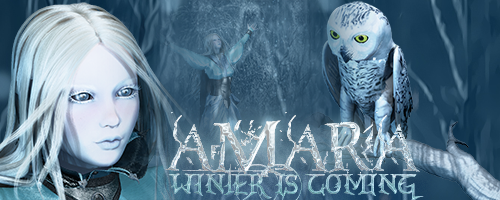 Thanks for the signature/avatar set, Fainy! <3
Check out my resume!
"The line between what brings us pain and what sustains us is far thinner than one imagines." - Klaus Mikaelson.