Alethea felt her cheeks grow slightly warm when his face suddenly flushed and he looked down, tearing his eyes away from hers. She wondered why. Had her mind unconsciously searched his? Had she made him uncomfortable somehow? Or was it something else entirely? She had no real precedent to base any conclusion on.

She took a slow, deep, but hopefully inconspicuous breath as he placed his hand on hers, allowing it to linger there for some time. His touch was surprisingly soft and tender, yet it still contained the strength she knew he had. It was strange that such a simple touch could convey so much. She wasn't quite sure why the way his fingers slowly massaged her wrist made her heart race so much. She found herself looking away, at anything else, to hide the hint of pink she knew must be coloring her cheeks. It was a strange sensation, somehow embarrassing, but not altogether unpleasant. In fact, it was rather pleasant and comforting, although she couldn't really say why.

She looked back at him, her eyes following him as he rose from his seat with a reassuring smile of his own. His hand lingered a moment longer before he removed it and faced her. She allowed her own hand to drop to her side, closing it without thinking, as though to hold on to the fleeting warmth.

He wondered why this event, and to be completely honest, she had no real answer for him. Not one she could support, anyways. It was true, there were a lot of points in history that someone might want to explore, or in some cases change. Of all of those available, the Blockade of Naboo would certainly not be on the top of most people's list. Likewise, she had no true answer to who would do something like this. She thought that as they investigated, whether here or in the past, they would get a glimpse of what kind of person it was who was doing all of this, but for the moment, they had no evidence to go on.

He continued to speak, asking questions she continued to have no answers to. Yet, when he fell silent, she spoke, even not truly knowing the answers. "Unfortunately, it is a very real possibility that altering time is, in fact, it's primary purpose. As much as I'd like to believe otherwise," she sighed lightly as she spoke. "I don't know why this event. To be perfectly honest, I don't know enough about the events surrounding it to form an educated guess. If I had to hazard a guess... I'd guess that, perhaps, this even was more significant to those that follow than history remembers. Whether the effects are on individuals who later influenced the outcome, or it played a part in the beginnings of the war itself. One way or another, there is likely a reason, and I'm sure we will figure it out," she explained her own thoughts on the matter, pausing for a moment. "Of course, there is always the possibility that those responsible can't control where in time someone is sent, and it's simply a random destination, but I'd rather err on the side of caution."

"As for who, I don't know who would do something like this, or who would even have the capability to, but I doubt it's someone with good intentions. I doubt they would go through this trouble for some leisurely study of the past. They have a purpose, and I suspect that in finding that purpose, we will gain more insight into who they are," she continued, her own eyes contemplative as she searched for answers she knew she wouldn't find.

"You're right, though. If someone could control this... The possibilities are endless. The future depends on the past. If they changed key points in history, then the future as we know it would cease to exist," she spoke this in a somewhat detached tone, as though it were simply a fact. In reality, she was doing her best not to let the possibilities worry her.

She shook her head, as if to shake away the thoughts. "At any rate, whoever it is and whatever their goal is, we have to figure it out, and soon," she said this was a little more determination in her eyes, despite the fairly calm way in which it was spoken.
_________________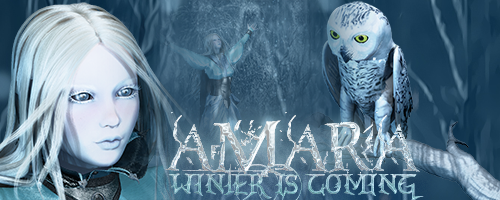 Thanks for the signature/avatar set, Fainy! <3
Check out my resume!
"The line between what brings us pain and what sustains us is far thinner than one imagines." - Klaus Mikaelson.