Eira smiled lightly when he implied that the reason behind his approval of her actions was because it was getting a bit stuffy in there. It wasn't entirely incorrect. It was stuffy in there, but then, she had felt that way since the moment she had stepped into the room. "Mmm, yes, it was rather stuffy," she concurred. "Then again, these things usually are," she chuckled, leaning lightly against the edge of the balcony next to him. It was quite a pretty sight. Perhaps not to some, but to her, there was nothing more beautiful that the sight of her kingdom at peace, and it was.

The snow remained mostly undisturbed as it blanketed everything from the mountains and the trees, to the houses that dotted the city. It was picture perfect in the moonlight. The only thing that disturbed the perfect scene were the footprints, hoof prints, and the wheel tracks in the snow off to the far right, barely within their field of vision, where the walkway leading into the palace was lit with torches. Everything else seemed perfectly undisturbed, just the way she liked it.

She turned her attention back to her guest after surveying the scene, noting that he seemed a bit different, like he was full of energy, though he didn't seem to be in a hurry to act on it. She didn't wonder why. Instead, she wondered if he had figured out yet that she knew, or at least suspected that he didn't belong here. She hadn't made it obvious. In fact, she thought she had done a rather good job of hiding it, for the most part. After all, she thought it was rather more fun this way. Then again, it couldn't last forever. For now, however, she was content to let it last for as long as possible.

His next question surprised her a little, although she tried not to let this show too much on her face. So far, their conversation had been light, even playful, and now it had turned serious. She turned her gaze back to the sight of her kingdom, covered in snow, quietly reflecting on the question, smiling just a little at his comment that she seemed like someone important around here. It was clear enough that most people knew who she was, that she was important. After all, a mask can hide your face, but it can't hide your presence, and hers was rather distinctive, she supposed. At least to anyone who had ever met her, or who knew enough about her to make the deduction. "Important, huh?" she mused, looking up at the moon this time. "Yes, I suppose so," she didn't bother to elaborate. It hardly mattered at this very moment. She was rather enjoying being treated somewhat normally, rather than being treated as the queen. She thought that, before he left, she would tell him her name, but until then, she would keep it to herself. If he figure it out, she wouldn't lie, but she wouldn't go out of her way to hand him the answers, either.

She let the silence fall around them once more as she once again stared down at the kingdom below--her kingdom. Would this change anything? Would things really improve? She wondered. In truth, she had her doubts. Still, her advisors seemed to believe it would, and a good queen listens to her advisors, at least so long as they don't advise things that go against her conscience. "I don't know, to be perfectly honest," she answered, her voice soft, her eyes reflecting the snowy kingdom below with a fondness that couldn't be explained. There was something else reflected in her eyes, but it was difficult to make out what it was. She wanted things to change. She needed them to, because she hated to see her people suffer. But she honestly wasn't entirely sure how to bring about those changes. She was doing everything she could to help, but even so, the change she wished to see was happening far slower than she wanted it to.

"I hope it does. I hope that they are right, that this, as crazy as it seems, will start the chain of events that will bring about change," she paused once more, glancing his way to gauge his reaction before turning her eyes on the city once more. "They deserve for things to improve. To return to what they once were. No. To be better than they have ever been," she added with a bit more of a determined resolution in her voice. After a moment she turned her eyes back to him and smiled a little, "But, I suppose that doesn't really answer your question, does it?" she chuckled a little, at herself, for getting so carried away.

She glanced at the door when she heard guards talking nearby. Her eyes lingered for a moment, waiting to see if they would open the door. They did. It was one of her guards that stuck his head out. She used a little magic to soften the look of his mask, or mask it, as it were. She stood up straight, facing the door as the guard stepped through. "Yes?" she looked the guard in the eyes, her own eyes easily distinguishable to the young man, who quickly bowed low to her. "Forgive me, your highness," he apologized. She winced a little when he called her that, but shook her head slightly. "It's fine. Carry on," she commanded him with a small wave of her hand. "I will ensure no one bothers you again," he added before stepping out and closing the door behind him.

"Honestly," she sighed lightly, turning back and leaning lightly against the balcony's edge once more. "Well, so much for anonymity," she gave him a small smile, but left it that that. She didn't plan to actually reveal any more than the guard already had. At least, she wouldn't volunteer it, anyways.
_________________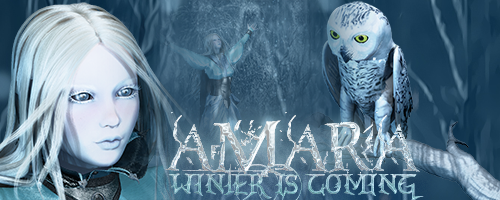 Thanks for the signature/avatar set, Fainy! <3
Check out my resume!
"The line between what brings us pain and what sustains us is far thinner than one imagines." - Klaus Mikaelson.