Shaking his head, still a bit confused about the whole thing that just happened, Rin tilts his head when Edward asked how they were going to flush this person out. They'd already tried searching for this guy, and it ended up backfiring, so they probably should not do that again. Scratching his head, he sighs, trying to think up some sort of plan. He wasn't the sort to actually make up a strategy like this, it was more his brother's thing...his brother... "Hey, maybe Yukio can help!" He grins, feeling smart for coming up with that idea. "He's pretty smart, but don't tell him I said that." Rin gets a rather disgruntled expression on his face. "He's got a swelled enough head as it is...friggin smart ass four eyes." After a moment he shakes his head. Now was not the time to worry over that. They had a problem, and they needed to get it sorted out asap.

"So, what do you think? I have no other idea right now, except for just wait til he or she or whatever this person is to come out, or to just go after 'em again..." He looks to Edward, wondering if the taller male had any other ideas besides having to ask Yukio for a suggestion or strategy. What Rin failed to see was the fact that they were being watched, and the one trailing them was quite amused at their attempts at bringing him out. Shaking their head, he fights the urge to laugh, instead, he remains quiet.

However, at the last moment, he looks up and over quickly, eyes widening a split second before a foot comes into contact with his side, sending him flying out of the alleyway and sprawled into the street a few feet away from the two students. Hand on her hip and an annoyed expression on her face, the big breasted beauty Shura Kirigakure saunters out after him, bottom lip sticking out in annoyance, a twitch in her forehead showing that she was not in the mood right now to be messed with. Shura, Upper-First class Exorcist, and instructor. And also happened to be the big sister of...

"Shun Kirigakure! What the HELL do you think yer doin?!?!" Shura growls, stepping close to the young male's body, sprawled on the ground and gazing up coldly at the scantily clad woman. He looked almost the same as her, hair, eyes, facial features, even the marking on his chest was similar to hers. As for clothing, it was apparent they both didn't like wearing much, as his jacket was left open, and he had no shirt on underneath. Shun just stares back, glaring at Shura, who repeats the expression right back.

As this all happens, Rin just stares, wide eyed and open mouthed. What the heck was going on?! He blinks, and glances over at Edward, before turning his focus on the stare off. He hadn't failed to notice the pin that this Shun guy wore on his jacket, same as Shura's, so that meant he was a higher up class than them. Shura growls slightly, stepping out and onto Shun's stomach, who finally has enough of this and grabs a hold of her foot and shoves back hard and fast, pushing her off balance and giving him enough time to jump away, quicker than Shura could react, who tried swiping at him but only got a handful of thin air. "SHUN! YOU GET BACK HERE!!! I AIN'T DONE WITH YOU YET!!" After a moment, she blinks, and glances over at Rin and Ed. "Hmm...?" She blinks a little, then a smile breaks forth. "Hey there Rin! You stayin' out of trouble eh?" She laughs, and he just stares. "What. The. Heck. Was. THAT?!" He points in the direction of the guy who had run off, and Shura just laughs again. "Ah, um, well, long story short...eh, that's my little bro."

Silence. A nervous chuckle from Rin. Then. "WHAAAAT?! Your BROTHER?!" Everything was so crazy right then. "Ya, sorry 'bout him coming after ya like that. He's an butthole." Shura grins a bit, chuckling softly. "I didn't know you had a brother!" Rin shakes his head, still trying to wrap his mind around the fact. "Yeah, well, no one really does." Shura shrugs then looks over to the taller guy that was with Rin. "Hey, I don't think we've met. Rin, you gonna introduce your friend?" Planting her hand on her hip again, she glances between the two. "Oh, yeah, this is Edward. Ed, this is Shura."
_________________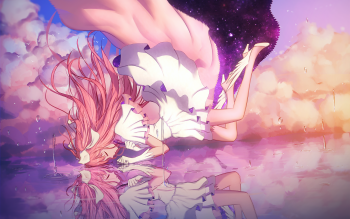 夢はこの部屋の中で
優しい歌をずっと君に歌っていた
何がほんとのことなの
一番強く信じられる世界を追いかけて
君の銀の庭へ

静かに寄り添って
何処にも行かないで
窓辺で囀って
何を失くしたって