The warmth of the sun reached through the window of Happy's window, gently caressing her still sleeping face. For a moment she remained like this, but gradually began to wake, stirring softly, and opening her eyes. Sitting up, she yawns, rubbing her eyes with her hands before looking around her room, not wanting to get up off of her bed, so comfy and soft and safe. But she knew that even she had to get up, and so, rather grudgingly, moves off of the bed to get dressed. Instead of the uniform, Happy wore an outfit of similar design to what she wore yesterday, but different colors. As she went through her morning routine, she wondered if Ed was awake yet, no doubt he already was, since she knew that even Rin and Yukio were up at this time as well.

Speaking of, in their room, Yukio was once again fighting with his brother to get moving, already wearing his own clothing. "Come on Rin, why do we have to go through this every day?" Yukio groans, staring exasperatedly at his twin, hand to his forehead. "You don't have to, you know that four eyes?" Rin retorted, scowling at Yukio, fighting with the tie around his neck. "Why do we even have to wear these things?!" He growls, but eventually gets it tied, and with Yukio rolling his eyes, the two of them leave the room, heading to the kitchen, surprised to see that the new tenant Edward was already there and eating. "Hey there! Good morning!" Rin says in greeting, a big smile on his face, waving to Ed, grabbing his own food, followed by Yukio. "You looking forward to your first day here?" Yukio asks, eyeing the fourth bowl of food, wondering as always who the heck it was for. As far as he knew, there were only three people here, before only two, and yet as of late Ukobach, the demon who cooked their meals, kept making one extra. He never questioned it though, but it was something that tugged at his mind whenever he saw it.

Sitting down at the table with Rin and Edward, Yukio looked at his watch, making sure they had plenty of time to get to the school without being late. Since it was a weekend, it was only the cram school that was open today. After a while, Yukio finishes and gets up, placing his dirty dishes back where he got them, knowing that Ukobach would wash them. Turning to the other two, he speaks up. "I"m going on ahead, don't be late." With a wave, and a 'yeah I know' from Rin, Yukio leaves. Once he was gone, Rin turns to look at Ed. "Hey, want to walk to the school together?" He smiles.

Upstairs, Happy was finally finished with getting ready, and taking a breath she turns on spot, and in an instant vanishes, becoming invisible. With this, she leaves the room, closing the door quietly behind her, locking it with the special key Mephisto gave to her, before heading silently down the stairs, towards the kitchen. She hears voices, and pauses, letting Yukio pass her before continuing on her way. Heading in, she saw that Rin and Ed were still eating, and her food was on the counter. She knew that the others would not be able to see her, so she knew no worry, and went over to it. Waiting for the right time, she picks up her food when the others weren't looking and begins to eat behind the counter, smiling over at the glowing eyes that belonged to Ukobach. Holding a thumb up, only he could see her, and from her silent gesture of thanks, the eyes close, and she continues to eat.
_________________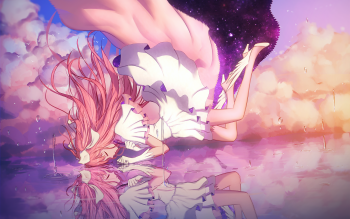 夢はこの部屋の中で
優しい歌をずっと君に歌っていた
何がほんとのことなの
一番強く信じられる世界を追いかけて
君の銀の庭へ

静かに寄り添って
何処にも行かないで
窓辺で囀って
何を失くしたって