Elijah explained that what they did here depended on the person. She guessed that kind of made sense, given that she assumed they all had their own unique problems, or abilities, whatever you wished to call them. It made sense that what they did would depend on the person. It was, however, rather disappointing to hear that he had gotten a lot of tests done and he thought it seemed more like they wanted to progress his abilities, rather than help him suppress them.

She supposed that progressing them would not necessarily be all bad, given that at some point it seemed likely that they would gain some control over the ability and may even develop the ability to suppress it on their own. This, however, may not be true for everyone, and in the meantime, it meant that the ability would get stronger and thus, so would the effects on the person. Her dreams were bad enough as it was. She wasn't terribly interested in the idea that they would get worse before they got better. Still, she had signed up for this, so she guessed that it was best to at least try to see it through.

She didn't really realize the somewhat pensive expression her face now held as she considered this. "Well, that's a bit disappointing. Although, perhaps not entirely unexpected," she looked none too happy about this development, but nevertheless, she didn't seem as though it changed her mind about being here, either.

"That's for sure," she agreed when he acknowledged that staying awake for days wasn't the easiest thing to do, or to hide. "It's a little easier when your parents decide to drug you so you stay awake at school. Harder, though, when they also decide to drug you to make you sleep," she replied thoughtfully, shrugging as though it were nothing. That was a perfectly normal thing for parents to do, right? Not really, but it was easier for them than sticking her in some program to help with her... issues. Having a stay in some psych program because she was on the verge of a mental breakdown wouldn't have looked good on her record, after all.

Elijah then when on to try to explain his abilities, seeming to not really know how to describe them. She chuckled at his comment about doing a horrible job at explaining. "You're fine," she shook her head, smiling. "I think I understand. You can't actively read minds, but you constantly hear people's conscious thoughts in your mind. Is that right?" she asked, summarizing the basics of her understanding of his ability.

"That doesn't sound fun," she then added. "I'm sure it'd be a useful thing if you learned to control it, but until then, trying to drown out the thoughts of all these people sounds like about as much fun as staying awake for four days without the aid of caffeine. And that is not fun, believe me," she chuckled, propping her elbow on the table and leaning her face into it as she glanced around the room at all those who sat around chatting and laughing. "I imagine everyone has some downside to their ability. Some more than others, I'd guess. But I suppose some do a better job of hiding it, huh?" she mused as her eyes landed on him once again, a small smile on her face.

"Then again, I suppose having friends to distract you or to help you might just make it more bearable," she added thoughtfully. "Speaking of friends. I am willing to make you my best, and presently my only friend at this... place," she gestured with her finger as she ended the statement. "It's an offer you can't refuse. Well... I mean, I guess you could... But I hope you won't," she added with her most charming smile. "You know, assuming my bluntness, insatiable curiosity, and excessive apologies aren't too big of a deal breaker," she added with an almost playfully thoughtful expression on her face.
_________________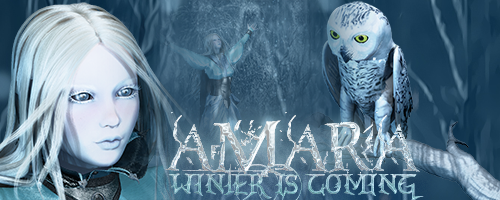 Thanks for the signature/avatar set, Fainy! <3
Check out my resume!
"The line between what brings us pain and what sustains us is far thinner than one imagines." - Klaus Mikaelson.
Last edited by Amara on Fri Feb 16, 2018 11:36 am, edited 1 time in total.