Ace shrugs his shoulders when she said no thanks, that she wasn't hungry, and when the waitress returned he ordered a cup of tea, and a piece of blukberry pie. Leaning back in his seat, he barely pays attention to the TV that was on in the cafe. When Draco spoke up about her brother, he looks up. An uninterested look on his face. A darkened expression forms on Ace's face as he looks away, not caring in the least. Speaking up, his voice harsh. "Yeah, well, good for him. Just great. Fan-tas-tic." Crossing his arms over his chest, he mumbles under his breath. "And MY brother became a good-for-nothing criminal, just what HE wanted to be...aren't we all just peachy happy?" Gritting his teeth, he growls from the back of his neck, sliding a bit to slump down more in his seat. Hearing about Draco's brother made him annoyed. Really annoyed.

A smile forms on her face, and a skeptical look in her eyes. "I'm sorry, if it was popular, I would have heard of you. Or the book. The people who come by my shop talk about everything and anything, and come from all over the place, from different regions and cities...so I'm sure I would have overhead a conversation. So, I'm sorry Kurai...your publisher must be telling you tall tales about how popular it is..." She wasn't trying to be rude, she was just stating a fact. "As for the Legendary Pokemon, we wouldn't have to hunt for it...but alright...if you're sure..." A twinkling in her eye hid the mischief she was keeping to herself. "If you change your mind, just say so."

Her hand falls to her side, her finger brushing against one of the stones that made up the belt at her waist, the one she was touching colorful, like the rainbow. With the letter 'X' etched in to the stone, it glittered and glowed slightly. Gardevoir looked over at her, then glanced at the stone, wondering what was on her partner's mind. Next to it was one that was a pale blue, light green, and a pinkish red color. One that matched to the one that was on the ribbon around her neck in a jewel holder. Gardevoir reaches up to gently touch it, before looking ahead of them, to keep an eye out for any more puddles for her to move out of the way.
_________________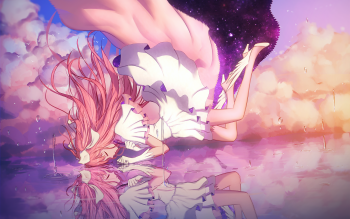 夢はこの部屋の中で
優しい歌をずっと君に歌っていた
何がほんとのことなの
一番強く信じられる世界を追いかけて
君の銀の庭へ

静かに寄り添って
何処にも行かないで
窓辺で囀って
何を失くしたって