((I may add more to this or do a bit of editing, but here is Eira's character sheet.))

Name: Eira Anwyl

Age: 20

Gender: Female

Appearance: Eira is a tall girl, standing at about 5'11, with a lithe, thin, but curvy build. She has long, thick curly hair that falls about her mid-back and is such a light blonde that it is almost white. Her eyes are a light, almost ice-blue that at times may appear almost grey, set against the fair skin, high cheekbones and sharp angles that make up a beautiful--but perhaps a bit unusual, if you ask her--face. Her skin is light and fair, but not quite pale. She has an air of elegance and grace, yet also a cold, aloof, almost detached manner about her, which many find intimidating.

As far as attire goes, she can usually be found in light, elegant gowns when in public or really most of the time nowadays. She can occasionally be found in something less queen-like, but she is almost always in something nice and elegant, unless the situation calls for something specific, such as in battle or if going out into a blizzard or something of the likes where thicker, winter attire is favorable. Despite her near immunity to the cold, in extreme cold, even she can feel the sting and chill.

Race: Human - Snow Queen, practitioner of winter based magic.

Mortality: Immortal

Kingdom: Eirwen

Rank: Queen

Abilities:
-Winter magic: Eira, like her mother before her, was born the Snow Queen. She was gifted with control over winter magic.
*She can create, control, and manipulate snow, ice, cold gusts of wind, even control or create blizzards.
*She can disguise her appearance, mainly either to mask herself entirely or either soften or hide her face, with the use of snow. She cannot actually physically alter her appearance.
*She is practically immune to the cold and can also protect someone else from the cold using her magic, although this does require a steady flow of magic, even if it's not much.
*She can chill the air around her or use the cold to slow a person or creature's heartbeat, either to render them unconscious or to stop their heart altogether. The line between simply taking their consciousness and leaving them alive, or taking their life is a fine one, and one that is not always clearly defined, making it easy to push just a little too far and stop the heart rather than simply slowing it to the point where consciousness fades.

-Other magic: Beyond winter magic, Eira also has some other various forms of magic that she has been granted.
*Mesmer magic: Her abilities to use this form of magic are limited to two simple things. First is a form of suggestion. She essentially laces her words with magic to make the person more likely to agree to what she requests. How well this works will depend on the strength of someone's mind and how open a person's mind is to suggestion. Secondly, she can, to some degree, make someone forget something. This does not mean she can wipe their memory, even one simple memory. Rather, she can alter the memory slightly, altering small details to change the memory from it's original form to make them forget what it is that she wants them to forget. The detail has to be impeccable. If the person realizes that something isn't right, they can cause the original memory to resurface. So, again, the effectiveness depends on the strength of the person's mind.
*Sight: Eira can see things that she otherwise would not be able to see. This is accomplished through the use of an object given to her by her mother, a small mirror. It allows her to find people, as well as the see things outside of her realm, or things she otherwise could not see. She can also use this to block the sight of others in order to keep them from finding her or seeing her.

-Intellect: Eira has extraordinary intellect. She is cunning, logical, observant, and excellent at deduction. She is very bright, inquisitive, and resourceful. Because of her tendency to see things only from a logical, rational point of view, she does not understand much as far as emotions are concerned, and often finds decisions based on such confusing.

-Swordsmanship: While she is far from the most skilled swordsman in the land, she was taught how to fight with a sword and is at the very least competent and capable of holding her own in a fight.

-Archery: Eira was also trained in archery and she is a more than competent archer. Although this is not typically her choice of fighting-styles, she is capable of using a bow fairly skillfully, if needed.

Weaknesses: Eira's main weakness is Dardanos, or rather the Darkness. The magic he wields is her weakness. The magic alone is not enough to actually kill her, but when used correctly, his magic can weaken and subdue her, bringing her to the brink of death and, should he wish, keep her there for as long as he can hold out. Her magic has the same effect on him. There are two weapons imbued with the magic of Aeron and Isolde that are capable of killing her.

Personality: Eira is a bit of an unusual girl. She was once a happy, but perhaps somewhat fragile child, easily hurt by even the gentlest of correction, prone to tears and hurt feelings. She was loved by her mother and adored by her father, but those days are long gone. After the disappearance of her parents she changed, out of necessity more than desire. Nowadays many would describe her as cold, aloof, detached. She does not cry anymore, nor does she often give herself to many emotions at all. She has built a nearly impenetrable wall around herself to keep her emotions in, and to protect her from further pain. She doesn't let people in and her trust is not easily won, though it is easily lost.

Her biggest weakness is likely the fact that she has a hard time trusting people or letting them in, and may even push people away if they get too close. Mostly she holds people at arms length so that they can't get close, and her cold, aloof nature doesn't typically make that a difficult task, given that many find her somewhat intimidating, meaning that there aren't often many men who might seek to try to win her heart.

Rather than being driven by emotions, she is ruled by logic. She is ever calm, calculating and rational, rather than letting emotions cloud her decisions. She is very observant with excellent deductive skills, as well as intelligent and inquisitive.

While many may see her as uncaring due to her cold and aloof nature, she will always look out for the best interest of her kingdom and will do everything in her power to protect the lives of those the follow her. She will not easily throw away the life of someone on her side, but she will not hesitate to take the life of an enemy, or anyone who threatens her or her people. She may regret that she had to take a life, and she will do her best to avoid unnecessary death, but she will do what she must to protect her kingdom.

Eira is known for her honesty and for always keeping her word. She is, at times, brutally honest and perhaps wanting for tact, but you will never have to question whether or not what she says is the truth. Likewise, if she makes a promise, she will keep it. That is not to say that there are never times that she has found a loophole in a deal she made and followed the letter of the law, so to speak, as opposed to the spirit of the law. This, however, is not common practice for her, nor does she do so lightly.

Because of her own honesty and integrity, she expects the same of others. She does not take well to liars or those that toss their word around lightly and do not follow through. Furthermore, she does not tolerate betrayal or disloyalty. This is one area where she is prone to, at times, lack understanding and even be somewhat unreasonable. She is not very forgiving of those that break her trust, and if she is betrayed, it is highly unlikely that she will ever forgive that person, depending on the extent of the betrayal. Her instinct is to protect herself, which means eliminating those people that have hurt her and thus may do so again in the future, from her life.

History: Eira was born the only child to the king and queen of Eirwen. She has no memories of her childhood before her mother's death when she was eight years old. Her father died before her mother, as he was mortal, so she doesn't remember him, nor does she remember much about her mother, or the love they gave her. She has a singular memory from the last night she saw her mother, the night she disappeared, but otherwise, she has no memories of the events before or surrounding her mother's death. After her parent's deaths, she was raised by Meuric, a man who had been close to her parents, who became the regent until she came of age to take the throne. The man, while not cruel, was not kind to her. He showed her no love, only indifference. Initially she would cry when he would scold her, but that only earned her punishment. She slowly learned not to cry when anyone could see, and eventually she stopped crying altogether.

Just months before her eighteenth birthday, when she was set to take the throne, she learned of his betrayal. He had been working for Dardanos, and had meant to kill her and take the throne for himself. The only reason he had not taken her life before was that he needed a weapon capable of killing her, and he also needed a plan to throw suspicion off of himself, given that there were very few ways that one could kill an immortal, and with him standing to inherit her kingdom, he would be the suspect and it would be unlikely that anyone would follow him. In the end, his attempt to take her life failed and instead, she took his life and her throne. She now rules Eirwen and presides over the council of kingdoms, as her mother had before her.
_________________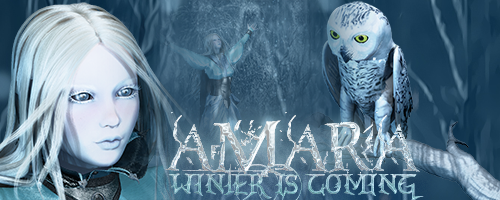 Thanks for the signature/avatar set, Fainy! <3
Check out my resume!
"The line between what brings us pain and what sustains us is far thinner than one imagines." - Klaus Mikaelson.