PLOT:
On December 12th at the stroke of Midnight in the year 2012 the world was supposed to end. However…This could not be so.
A War was raging unbeknownst to human kind, a war for their souls, and their humanity.
Without the Apocalypse to cleanse the Earth and take human souls into paradise, Life cannot be reborn onto the World…So it is up to the Heirs of the Horsemen to bring down the hammer on the two warring forces…Angels and Demons.
The problem with these two forces is that they are constantly pressing into the Free Will of humankind, and bending them, and shaping them to a more chaotic way of life then what had been predicted for the End of Days.

NOTE: I don't want this to be boring for anyone, your characters are free to seek out relationships and explore, I don't want it to be constant "Whack-an-Enemy" In this world you can be a high school student, a college student, or whatever you wish. Just know that humans don't know what you are, you are perceived to be just like anyone else. You are a hero hidden amongst those you were created to protect. The numbers listed below are not definite, I am open to have normal people join in if they do not wish to play as an Heir. I'm also open to the idea of Rogue Angels or Demons, or Familiars for the Heirs. But the RP will most likely no start unti;l all positions for the heirs are filled
CHARACTERS:
8
more Openings Max,
4
Openings Min (Not including GM)
Freya Athena Bellatrix- Heir to War
POWERS:
The Heirs have the powers and characteristics of their Fathers, meaning that they can summon their Soul Bound Weapons, and their Horses. Characters Weapons tend to stay within the same field as their parents…(War= Great Swords, and Two Handed weapons which tend to show Wrath… Death= Scythe, Sickle, and sickle and chain… Pestilence (Anarchy)= Long Range Weaponry…Famine= Staffs, Blunt Weapons, relies most on Magic) An Heir is at their Most POWERFUL when both Soul Bound Weapon and Steed is summoned. Depending on the class level of demon and or Angel depends on what they should use at the time…But hey if you wanna do some over kill action that's cool! If an Heir does not feed on their Life Force their powers could drain away and become obsolete. Meaning, War feeds off of wrath, so there for hangs out at boxing matches or war zones…Death is all creepy and crashes funerals or something…so on and so forth each Heir feeds off of something, Sickness, Sadness, Wrath, and Chaos…
DEMONS AND ANGELS:
These enemies will be based on a scale 1-10, 10 being ridiculously powerful and needing team work of all four Heirs (Or at least 4 Heirs depending on RP-ers) and 1 being pretty squishy. 5 would be a medium risk but doable with one Heir… And so on and so forth… In other words...Anything above a 5 class enemy is in need of 2 or more Heirs. 1 (25% power) 2 (50% power) 3 (60% Power) 4 (75% Power) 5 (100% power) 6 (150% power) 7 (175% Power) 8 (200% Power) 9 (300% Power) 10 (400% Power) Some of these are what power is needed to defeat these levels. Meaning that a combined 400% is all the Heirs at 100%. NOTE: 400% is base power, Angels and demons can also vamp up in much the same way by summoning smaller lesser demons or worse…
Heads up...Older Demons and Angels are the most powerful!!!!!
HEIR ENERGY:
Just so that we are clear, just consider the Heir's power at 100% Think of Hercules m'kay? DemiGod strength, no tossing cars…Percy Jackson couldn't do that so… yeah. Each time you use a spell it takes away a percentage of that power…So when calculating your spells you need to make sure that you can determine how much you can use that one spell. For example:
Fire Sword of Wrath: 25% power drain, 25% Damage. Able to do spell 4 times before 0
And just because your Spell power is at 0 doesn't mean your strength completely ebs away, yes, the Heir will be a little more breathless…but not powerless. When At Full Strength with Soul Weapon and Steed an Heir is at 350% Power (Don't ask why 350…Idk…It's a good number without becoming mini God Spawns). To achieve full power the Heir must make a blood sacrifice(ie. Cutting of the hand and chanting –your choice of words-) Unfortunately to summon your steed and Soul Bound weapon will cost strength, but in return you gain power as well. It consumes 75% of your previous total. Example: Casting sword of wrath. Once and then summoning your Steed and weapon. As stated before using all of your power does not render you useless. It merely means you cannot use magic anymore until you feed and complete a rest.
CHARACTER SHEET:
DELETE ALL WORDING IN PARENTHESIS
Name:Age Appearance:Description/Picture:Attitude
: (Preferably Closely related to their Fathers, however some characteristics from Mothers are acceptable if minimum)
Weapon:Weapon Soul Name:
(A binding name to that of it's summoner)
Weapon Description/Picture:Horse Appearance/Pic:
(How you chose to describe the attitude of the summoned beast is completely up to you…)
Up To THREE Spells/ Description and Energy Toll:
-Add How many times you are able to use the ability at 100% power as shown in my own character sheet.
~Me Character~
Name:
Freya Athena Bellatrix
Age Appearance:
24
Description/Picture:
Stands at 5 foot 3 inches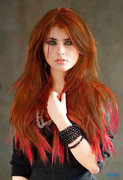 (Also can be found in Signature link of Characters. There you can see the bulk of her profile)
Attitude:
Freya is a very strong willed person, once she has her mind set it is very hard to get her to do anything else. Her hot temper usually gets her into more trouble then needed, but from her Angelic mother's side she gets a good understanding of people, and great listening capability when it comes to concerns. Although she can be extremely volatile to be around, she makes up for it with her quick wits and loyalty to her friends.
Weapon:
Great Sword
Weapon Soul Name:
Igneous
Description/Picture of Weapon:
A Long broad piece of what appears to be obsidian, sharp and carved chunks lie along both blades side. It's length is nearly as big as Freya herself, at 4 foot including the ivory and black opal swirled handle. The Sword in reality looks more like a large carved cleaver.
Horse Appearance/Pic:
Agamemnon is Freya's Red Steed he looks more like a sturdy mountain horse with his large ankles and standing at around 6 and a half feet at the shoulder. His mane and tail are a stark white with blood red streaks highlighted like fresh blood. His body is a complete earthy canyon red as a few spots along his flank appear to look like fresh blood spatters.
Up To THREE Spells/ Description and Energy Toll:
Flaming Wrath- Spell power 25%, Damage 25% Igneous is engulfed in an angry red flame that steals a small bit of creatures own Wrath to fuel her physical strength. Ability X4
Vengence- Spell Power 50%, Damage 50% With a soft whisper Freya shuts down her pain receptors and is able to draw on her pain to fuel a critical strike. Ability X2
Heavens Wrath- Spell Power 75%, Damage 75% Calling upon the blood of her mother Freya Prays to The Maker as a Pillar of Wrathful Fire spins and engulfs her enemy. Ability X1
_________________
More Info | +

Availability

: I am free most days, I am usually on at night ummm, Central Time. I stay up from anywhere between 10pm to 2am, it really depends as I am a single mother and like everyone has RL that tends to creep upon me.



Styles

: My normal style is two to multiple paragraphs, I prefer third person when typing. I am willing to work with those who are new to the RP world or who wish to better their ideas, or collaborate for more detailed story ideas.



OVERALL

: I just wanna have fun, make cool stories with y'all, just remember that I have a life too, and if I forget about something, or our RP then go ahead and send me a PM. I don't bite I swear! I'm a nice cuddly person :3

Yes, I do dabble in graphics, yes the signature picture, and my Avatar was created by me, I will do stuff upon request, and if you'd like to check out more of my work check out my instagram @ Squeeze_D_Lemons :3
"The knack to flying is learning how to throw yourself at the ground...and miss" -Douglas Adams
"Why is a Raven like a writing Desk?" -Madd Hatter