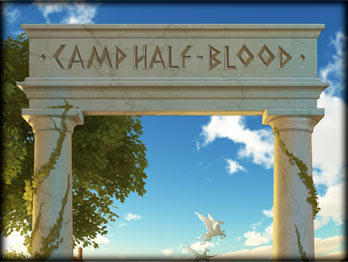 Welcome to Camp Half-Blood!
Greetings, demigod or other important deemed being! The following information has been provided to explain further what our camp exists to serve. Camp half-blood, as it is currently known, has always moved with Western Civilization as has Mount Olympus and several other of the locations and landmarks you may have read from Greek "myths" and stories. Before it was called Camp Half-Blood, it had many other names and titles, some not so welcoming.

Camp Half-Blood stands to house, train, and support Greek half-bloods, otherwise known as demigods, the spawn of a human and a god. Mortals would label it as a summer camp, though it operates quite similarly as such! Though many demigods only attend Camp Half-Blood during the summer, there are those who are too susceptible to monster attacks and so choose to stay with us in a permanent scenario. Here, the mist has no effect on anyone who is capable of seeing the boarders. If you are reading this then you have the power to see passed the mist, and into our home.

One may wonder, with so many powerful beings in one place, isn't that just asking for monsters to come and attack? Our borders are quite protected, Zeus himself blessed a tree within our borders that shields the camp from anyone that doesn't have blessing to enter. Not only will you be safe here, but you will be claimed by your godly parent if you have not been already. We have cabins that cater to all demigods and offer a very wide array of activities for leisure and training purposes.

Whether you wish to brush up on combat, forge weapons, go rock climbing, canoeing, or tinker with little metal parts, we have areas to fit your expertise. And trust us, if you're in Camp Half-Blood, you have expertise somewhere excellent. We personally invite you to join us, whether it be for safety or for leisure!
I must ask that you forgive me, I simply always choose to make a little in-character slice of the roleplay to show off in the Interest Check. So, yes, this is a Percy Jackson roleplay, because I'm a loyal fan to the books. Maybe not so much Heroes of Olympus. But, Percy Jackson and the Olympians was a pretty neat part of my life, and so now, I choose to extend that.
To make it clear, in case you were concerned, parts of this will take place at Camp Half-Blood, yes. However, it isn't a slice of life roleplay, it was serve a plot, I promise this much. Anything slice of life related will either be filler or contribute to development. That is to say, I won't nitpick at what people post, sometimes moving forward is slow.
I did want to make a few points clear though, the first one being, this might or might not stay in Beta. I didn't want to exclude people by placing it in Alpha, but I also don't necessarily want Cave content showing up within it. So, in the event it does stay in Beta, I do expect some above beta-writing within it. Posts can be short, I get it, but quality is important. Just keep that in mind if you request to be in it.
And, just a few ground rules to be aware of:
-Get approval from me before you begin to start a character.
-Get approval for your character before you post.
-Be respectful of others here. Not only is that a site rule, but I take it very personally for insults to happen within my own roleplays.
-This is our roleplay. If you have any questions, or have plot ideas you want me to implement, PM me, I don't bite.
-Nobody will have an unbeatable character. The dice-mod will be implemented, especially for PvP scenarios.
-Use common sense.
If this gathers attention, I'll have an OOC up, outlining some plot and other such content. Characters won't be limited to demigods, but only three children of the big three will be allowed. While I previously decided that there would be only one child of each, I did decide that I wouldn't mind seeing siblings. So from where it stand now, there can either be two children of Poseidon, two of Hades, or one of each. First come, first serve. I will not be taking any of these positions.
So, if you have any questions, feel free to PM me! And if you have any interest, please do tell. Thanks for the read, guys!
Child of Zeus - Claimed
Child of Poseidon - Claimed
Child of Hades/Poseidon - Open