Name:
Seren
Age:
Unknown
Lore of Magic:
Ashif, Alorn (air)
Weapon(s):
Staff, battle fan, dagger
Appearance: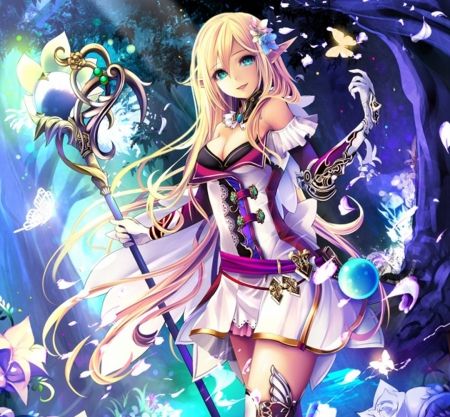 Personality:
Seren is very animated. In general, she is very flirty and kittenish, but if she is angry or upset, she doesn't hesitate to show it. Her face pretty much always gives away how she feels, whether she is fuming, pouting, smiling, or otherwise. She is a very honest and straightforward person, speaking her mind and giving her opinion without reserve. This is true in pretty much all cases. She will tell you if she is ****, or if she disagrees with you, and she'll flirt shamelessly if she finds you attractive. In general, she doesn't hold back. Just just does what she feels like doing. She can be brash at times, saying and doing things without thinking, but she is well meaning. At the end of the day, she is a very loyal and caring person.
Bio:
Seren grew up an orphan on the street. She doesn't remember her parents, only the orphanages and the streets where she spent most of her time. Like many others, she was found on the streets at the age of seven and taken in by the Phoenix guard. She was very happy to be a part of them, a part of something. She did, admittedly, let it go to her head a bit, finally having some meaning, some purpose. Finally being above all those who looked down on her all of her life. Still, she never really flaunted her power.
Being the friendly person she is, she made quite a few friends right from the beginning. She wasn't a natural like some, so she had to train hard, which was difficult for someone like her who was easily distracted, especially when there were cute guys around. Still, she gave it her all and when the time came, she passed her trials, becoming a Phoenix Guard. She was gifted with the Lore of Ashif and the element of air. After this she continued to train, eventually becoming one of the stronger members of the Phoenix guard, valued for her healing magic, as well as her skill with air magic.
----------------
Name:
Ignius
Age:
Unknown
Lore of Magic:
Ungol, Alorn (fire)
Weapon(s):
Scythe, sword
Appearance:
Personality:
Ignius of known to be a bit of a sourpuss. He has a badmouth and is rather ill-tempered, but in the end, he isn't actually a bad guy. He actually cares a great deal more than you'd ever know. He is very protective of those who have earned his trust and affection, hard though it may be to get to this point. He can be downright scary if someone hurts those he cares about. Unfortunately, it's difficult for many to know where they stand with him, as he is still blunt and tactless, even if it hurts, to his friends. The edge is taken off, as his intention isn't to hurt, but it's a subtle difference that many may miss.
He seems rather brash at times, seeming to jump into battle without thinking. He does, however, have a good mind for strategy, he simply tends to come up with a plan as he goes rather than taking time to come up with a plan that may change anyways. He is rather brash in his personal life as well, tending to say what he thinks without reservation, never really thinking about the repercussions of his words or actions. He is very irritable, often losing his cool rather easily.
Bio:
Ignius was born in the Grand Republic of Isri, but his family moved to the capital of Ar Dornast when he was a young child, both for their own advancement, and in hopes that he would chosen at one of the events held to find children who may bit a fit for the relatively newly formed Phoenix Guard. He was groomed by his parents for this, as well as to become a scholar, should he fail to be chosen. He knew, or perhaps should have known, that his parents were well-meaning, wanting him to succeed in life, but he grew frustrated with being told who and what to be, rather than allowed to choose his own path.
Shortly after his seventh name day, he was taken to a live event being held by the Phoenix Guard. His parents' wish was granted when he was deemed to have potential and chosen to join. They were, of course, sad to see their son go, but they were proud nonetheless. Ignius, on the other hand, didn't know how to feel. It was an honor sure. The Guard was cool. They were powerful and all the kids wanted to be one. Still, he hated being bossed around.
During his training he was a bit of a trouble child, mouthing off and getting himself into trouble, but outside of his obvious personality flaws, he was everything they had hoped he'd be. He was strong, he was intelligent, and he was driven. A bit angry and mouthy, but full of potential. It was fitting that, after surviving the trials, the Lore of Magic he was gifted with was Ungol, as well as the element of fire.
During his years in the Phoenix Guard, and eventually the Rangers, his temper and abrasiveness never seemed to go away. Regardless, he continued to grow stronger, even bonding with a few other Rangers, though he still hesitated to let them get close to him.
----------------
Name:
Kai
Age:
Unknown
Lore of Magic:
Vormal, Alorn (earth)
Weapon(s):
Sword, gauntlets
Appearance: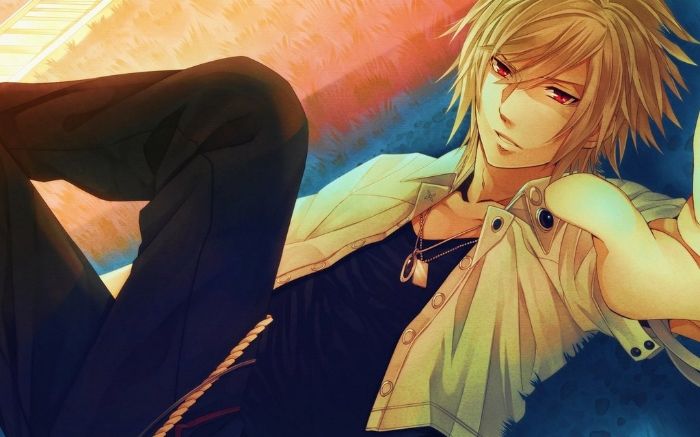 Personality:
Kai is a very earnest, kind, compassionate individual. He is basically the opposite of his brother. He is very calm, level-headed, and somewhat sensitive. He is nice to pretty much everyone, making him rather popular. He shares his brother's protective nature, hating to see anyone he cares for hurt. The difference is that he hates all injustice and hates seeing anyone hurt, so his protective nature extends beyond those close to him, although he is much more protective of those individuals that he cares for. He is usually seen as sweet, gentle, kind, and friendly. Unlike his ill-tempered brother he is rather mild-mannered.
Bio:
Kai, like his brother, was born in the Grand Republic of Isri. When he was still young they moved to the capital Ar Dornast for his father's career, as well as hoping that their two sons would be chosen to be a part of the Phoenix Guard, once they were all enough. The two boys were groomed for this, as well as trained to be scholars like their father, should they fail to be chosen. When Kai was six, Ignius was taken to the live event, where he was chosen by the Phoenix Guard. This was a very exciting day for their family, especially their parents, who were very proud of their son, even if they would miss him. Ignius wasn't as excited as one might have expected, which confused Kai, who not only idolized his brother, but thought that the Phoenix Guard were amazing. Even if his parents hadn't desired this path for him, he would have chosen it himself, so unlike his brother, he didn't resent their guidance.
The next year was rather difficult for Kai, who had a hard time without his brother. He spent the majority of his time training or studying, devoting himself to being chosen when his time came, wanting desperately to be reunited with his brother, as well as be a part of the group he so idolized. Before he knew it, his seventh name day came and went and it was time for the next live event. Like his brother, he was taken to the event and offered to the Phoenix Guard, and like his brother before him, he was chosen. Letting him go was a bit harder for his parents, but they did so nonetheless.
After being chosen, he devoted himself fully to his training in order to be ready to face the trials when he reached his eighteenth name day. This time passed more quickly than he had imagined it would and when the time came, he faced his trials and passed them. The Lore of Magic he was granted was Vormal, along with the element of earth. He was incredibly excited and proud of his accomplishments, but he didn't let it go to his head. Instead, he continued to devote himself to his training and becoming the best he could be. He eventually rose through the ranks, eventually having the opportunity to lead others in battle. This was both and honor and a curse for the kind-hearted man. It hurt him greatly when those under his command died. Even so, he never gave up, instead striving to be better so that he could do his best to protect them. This continued even after the second Ruinic invasion, after they became known as the Rangers, and into the invasion of the Varricus Imperium.