That's right, folks!
By the time this post has gone live, a great number of you will probably notice the white bar at the bottom of the site. For those who haven't, you will now! That white bar houses our wonderful new, fully-integrated chat. While it may take some getting used to initially, I'm hopeful that you'll all come to love it as much as I do. It's even mobile-friendly!
Unlike our old cbox's integration, we have fully integrated into the site so there are no log-in issues and avatars have returned (as pulled from your account directly). It's also directly linked in to everyone's profile so, if you're talking with someone and want to look at their posts and the like, just click their name in the "Users" tab of either the chat or the individual list and then click it again to be taken directly to their CF profile.
---
---
"How do I get into the chat itself?"
Locate the "Chat Rooms" button at the right-hand side of the bar.

Click on it and you'll see a list of rooms you can enter.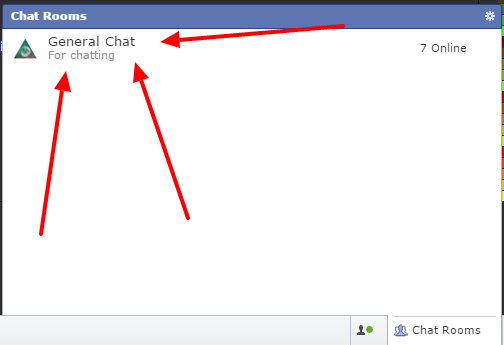 Voila! Just like that, you've been popped into chat! We
will
have other chats that you'll be able to pop into in the future (like one specifically for dropping in advertisement links to the roleplays you create), but for now, we've only got the general.
You'll also notice that on the top bar when you're in a chat, on the right-hand side, there are a few buttons. Those buttons will allow you to pop out the chat you're in to a new, free-standing window, or to leave the chat. If you choose to do this, the chat window on the site itself won't update for you as it'd weigh the chat service down, so keep this in mind.
---
"What are those buttons on the left side??"

Those buttons would be a couple of handy dandy links to various CF resources outside of the site! There, you'll find our Twitter Page, our Facebook Page, and our Facebook Group! Just click each link whenever you have need and it'll automatically pop out to a new window for your viewing convenience.
---
"When clicking on a name, I see "Block User". I can block people now?"
Yes, you can. Anyone that you would prefer not to chat with, all you need to do is click on their name and select "Block User" and you'll no longer see what they say when they're in a chat.
The exception?
You can't block staff.
If you'd like to unblock them, all you need to do is click on the person icon next to "chat rooms" and you'll find a gear at the top right. In there, you'll have the option to "manage blocked users".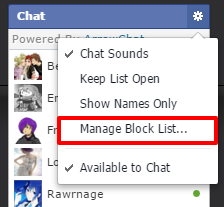 ---
"When I click the name, I see the option to Private Chat. Do we have Private Chats now?!"
After talking it over, we have decided to enable private chats. With this, though, we have a few things to go over:
The Same Rules Apply


I cannot stress this enough. While you'll now have access to private chats, you still need to observe the rules we have in place. That means no roleplaying. As always, this is a forum-based service that we offer you with the chat being a happy bonus, the icing on the cake, as it were. If you start RPing in chats, it takes away from the site that we pay for and would negate the reason to keep it around.

If you're looking for instant satisfaction for your RP fix, Omega is your best bet. Or PMs.

We Can Read Logs




Please believe this isn't something that we want to do, but it is something the chat automatically tracks. Eferhilda and I can read every private chat, between anyone that you do choose to interact with. While we won't be scouring through them, they will be looked at if we have reason to.

We tell this to you in the interest of full disclosure. Whatever you say, if you wouldn't do it in the public chat, you won't want to do it in private chats.

Consequences


Just like in the cbox, we have the option to ban people if necessary. This now extends to private chats as we can't revoke that privilege on an individual basis.
---
---
Otherwise? We hope that you enjoy using the feature! Maybe it'll even lead to some new writing partners or games now that others can connect all the easier.