Great. This was just great. Why was it always him? Why was it always him that got chosen to do the fetch and errand routine? Why was it always he, Silva, who had to go around chasing after his little brother when he decided to wander off? They had maids and butlers, so why the heck did they not get sent to do the grunt work? But of course, he never had the confidence to ask his mother or father those questions, instead, his brain automatically clicked into 'obeying and doing what he was told' mode, heading out the door with his hooded cloak around his shoulders, once more dressed to look his female counterpart. Or rather, what he would have looked like if he hadn't changed to a man. Because Silva Rias'oyvee had not always been a male, in fact, he started off life as biologically female. That was until he realized who he was deep down, and became what he was today. But of course, in a family that could only have female heirs, that was a huge blow, especially to his mother, and consequently his father, since now they had two sons, and no daughters. Both were unaccepting and forced him to keep up the act of being a woman still, and so he did. Why though...why he kept blindly obeying when he'd rather turn the other way...was beyond his comprehension.

And there Silva was to be found, walking down the streets of the more filthy part of the city of Tywardrea, his home town, to find his little brother, Rune. That brat really did get on Silva's nerves sometimes, doing this. Though Silva couldn't blame him, there were times when he was tempted to run off as well, but from what he could tell, Rune didn't even realize that he was doing it until he got there. Which was another reason why he had to find Rune, and fast, because who knows what sort of trouble the fifteen-year-old was getting himself into? Why, the last time he had to go out on a search and rescue, Rune had gotten himself into a street brawl started by two rival gangs of orcs AND trolls. It had not been pretty, trying to pry him away, without being pointed out. Even though he wished it wasn't the case, the Rias'oyvee family wasn't all too loved in these parts, in fact, Silva would say that the majority of the slums hated their guts. Who wouldn't? They were selfish, stuck up nobles who thought they were better than everyone else. In Silva's mind, just because they were "in charge of the place" did not give them rights to act that way. Yes, they were depicted by the king to govern the place, collect taxes and carry out decrees...but still.

Which was why, when he had to go out and find his brother, Silva had to wear this cloak, just in case he bumped into trouble himself. The hood up, his eyes glanced here and there, he wished things would pick up the pace and he could just find Rune and go home. He was getting bad vibes from around him, the looks he was getting weren't the nicest, not in the least. Maybe the inhabitants had figured out who Silva was and just wanted him gone as much as he wanted to BE gone. Shivering, not from the cold but the feelings he was getting, he pulls the cloak around his shoulders tighter, and walks just a bit faster. "Better hurry...have to hurry. Come ON Rune...where are you this time?" He mutters this under his breath, peering through windows and glancing down alleyways, but no luck.

Then, he hears a voice raised, something about a kid needing to watch where he was going. "Rune!" It had to be him. There was no way that it wasn't, he wasn't going to think of any other possibility. So, he rushes around the corner, glancing up at the crickety wooden sign that hung above the door. Great, a tavern. And one of the worst ones, too. This was where all the gang leaders, scumbags, and low life black market leaders liked to hang out. Why had Rune had to pick this place to end up at?! He suppressed a groan, pushing open the door just in time to see his little brother get up off the floor, and offer help to a scummy looking man, that made Silva think of a rat or mouse, apologizing at the same time.

However, it seemed the man wasn't about to accept his apology, calling him a bastard, before trying to attack him, about to pull a knife on the unsuspecting boy, and Silva steps forward, trying to get closer, but couldn't get past the burly guys in the way. "Rune!" He calls, but he was pretty sure that the younger boy couldn't hear him, so instead, Silva struggles past the people, pushing his way, dodging and weaving sweaty and smelly men of all different species, trying to hold his breath to keep the stench from his nose. Why did the heck this always have to happen? Every single time, with no fail at all? It was ridiculous!

Before the man could attack Rune though, a hand reaches out and knocks the guy back to the ground, unconscious. What? He turns to look at his brother's helper, a female with a strong aura around her. She asks if Rune was okay, and the smaller male nods, a tiny smile on his lips. "Yes, I am alright, thanks to you! I don't know what I would have done if you hadn't helped me!" In Silva's mind, he was mentally shaking his head. 'You would have beat him to a pulp and turned him inside out in an instant, that's what you would have done...You're more than capable of it, and you know it. I've seen you do it.' But this was all just said in his mind, instead he just stares, watching for the time being, but that was all about to change when a sudden yell echoes around the room, and the sound of a crashing whip sounds.

Silva jumps, and gasps at who he sees. A huge orc, even bigger than the ones he was used to, stands up, wielding a deadly looking whip in his hand. He could hear the girl speak, saying something about this being what she was trying to avoid. What was she trying to avoid? Causing a scene? That was nearly impossible in a place like this, anyone in their right mind would know that! Rune just stood there, staring at the damaged tables and chairs, mouth gaping slightly, his eyes wide at the towering creature that was threatening to cleave them in two with his whip. Silva wasn't about to let that happen, he had to act. Now. While he still could.

Even though he had seen the fire form in the woman's hands, Silva ignores it. He lets wind whip up around himself, the hood falling from his face as he rose into the air, hovering in the view of everyone in the room. To them, he looked to be a beautiful young woman, all in silver and gray, gentle in appearance, but with eyes of ice, glowing intensely with the use of his powers. Using magic to eject his voice he yells out. "STOP! I COMMAND YOU THIS INSTANT TO PUT DOWN YOUR WEAPONS, AND OBEY! IN THE NAME OF RIAS'OYVEE, I URGE YOU TO LISTEN IMMEDIATELY!" He looks to them all, seeing the hatred in their eyes and all over their faces, but he does not falter. "IF YOU RESIST, I WILL HAVE YOU ALL ARRESTED AND DETAINED. DO YOU UNDERSTAND ME?!"

At first, the brawl does not listen, though shortly after they began to put away their weapons, one by one. The only one who does not obey was the one holding the whip. From the corner of his eye, he could see a glint in his brother's eyes, something cold, something...dark. There was a sort of mixed hatred in the thanks that his expression had on his face...but why?! Why was Rune looking at him like that? Wasn't he supposed to be grateful? He could have ended up getting hurt because of the situation, and Silva helped him! So why, why that look? Rune turns his face away, and dodges away from the woman, and rushes from the building, disappearing out the door. 'RUNE! You little!' These words resounded in Silva's mind as he lowered his body from the air, and ran from the scene as well, not caring what happened after, leaving the bar.

His head turned this way and that, but Rune was gone. "****!" He groaned, bringing a hand to his forehead, letting out a deep sigh. Why did this have to happen? Usually, it went much easier than this! All he had to do most times was find Rune, detain him, and then go home. No fuss, no trouble, no resistance. Why today, of all days, did Rune have to decide to change things up? "Dammit! Where the hell did you go?" Silva felt frustrated, throwing his hands up in the air, placing them on the top of his head, turning in a circle a couple of times, knowing he better move on from the place before the guys from the inside realized he was still there. "Dammit, dammit, dammit! UGH!" He kicks a rock, sending it flying, before finally heading on, he had to find Rune. Find him, and go home. Where it was safe.
_________________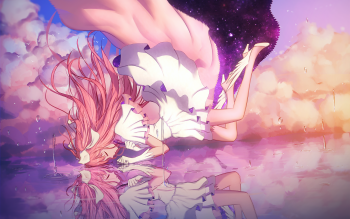 夢はこの部屋の中で
優しい歌をずっと君に歌っていた
何がほんとのことなの
一番強く信じられる世界を追いかけて
君の銀の庭へ

静かに寄り添って
何処にも行かないで
窓辺で囀って
何を失くしたって
Last edited by Shadow_Heart on Sun Jul 09, 2017 2:43 pm, edited 1 time in total.