The sun was starting to rise, the sky above a mixture of reds, pinks, and orange hues. Clear horizons with no clouds, a good sign that things were going to be well that day, but in the distance one could see dark clouds beginning to form, and if you looked hard enough, you could see flashes of lightning across the flat plains of darkness that symbolized the pain and suffering of the land, the trials that all went through, but the Elvish kind suffered the hardest from it all. Despite the shadowy omen that began to stir, the birds in the trees were singing in celebration of a new day dawning, and the animals that slept started to stir into waking, while the ones who called the night time their domain went to their homes, to sleep the daylight away.
It was an age of humans now, the Elvish race having thought to have died out that cataclysmic day, the day that things seemed to end, time itself comes to a halt as a dark energy formed on the flat lands that the battled had taken place. Each of their own kind, water, fire, earth, sky...no matter what realm they had come from, even the Lurkers, with their darkness, stopped, to look upon this sight with dread, before it burst forth, enveloping them, and they were gone. All that was left was a black and purple miasma that covered the land, absorbing any life that was left, the grass wilted, animals died, and it was left to be a bruised scar upon the surface of the world. Ever since that day, no one had seen any sign of any Elf, nothing at all.
And yet, something stirred. A ripple across the space of time and fate. A breath of life, having thought have disappeared, forms. A chest rises, and falls, a heart beat sounds, like a silent gong announcing that change was to take place. A sensation of air rushing past a pair of pointed ears, and the feeling of falling. A pair of eyes open, just barely, to take in the sight of blue, blue sky. In the sunlight, the armor that was on the body glints, and could be seen from quite a ways away. A hand reaches up, for what, that one would only know. Fingers clasp on to nothing, a fist forming, and the body braces for impact.
The body falls, falls, falls, and finally, hits the earth, eyes closed once more. The body had landed just outside the walls of a town, in a grassy place. What was going on? Why was this happening now? Who was this? They wore such outlandish clothing, which hadn't been seen in over a century, ever since that fated day. And yet, this stranger, that fell from the sky, was wearing it. A sign...that was what this was. Good or bad, that was yet to be decided.
The stranger, who the people would find out was a male, was oblivious to the world that was around, unaware that people had seen the phenomenon that had taken place, and the guards were rushing to lift the gate to the town that kept unwanted visitors out at night. Oblivious to the murmurs, the voices, the stares. Unknowing of the people who would soon approach his unconscious body.
Unaware of the time that had passed, and that he was to wake to the world he didn't know...
Freedom in the Wind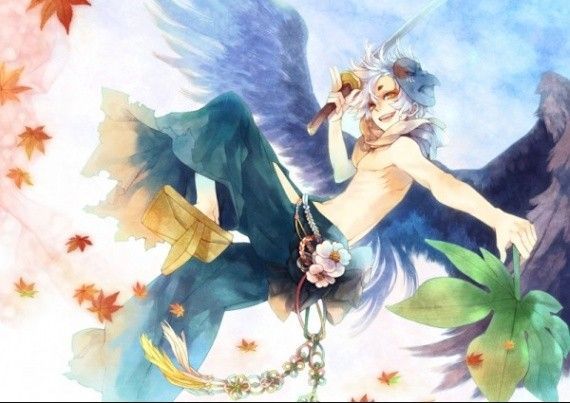 General Information:
Name:
Aeolius
Name Translation/Meaning: Mythical Keeper of the WindsNickname: None yet
Age:
Unknown, but appears to be about seventeen
Birthday:
June 20
Gender:
Male
Race: Air Elf
Elven Tribe: Wind Breakers
Home Country:
Azure City
Sexuality: Unsure
Occupation: None
Appearance:
Height:
5' 5"
Weight:
68.9 lbs (he's extremely lightweight because his bones are hollow like a bird's.
Eyes:
Has dark honey gold eyes that are similar to a hawk's eyes. He even has a double eyelid feature for when he is flying. He has two upward sweeping markings on the outer edge of his eyes that are a dark reddish brown in color like feathers painted on his skin. His eyelashes are a blackish brown, and his eyebrows are dark brown.
Hair:
Has gray-white hair that constantly looks like it's been swept and messed with the wind, tousled and slightly spiked upwards. He always has a bit hanging over the right side of his face.
Skin:
Lightly tanned ivory
Body:
Muscular, but thin.
Markings/Tattoos/Scars/Etc:
None
Clothing:
Usually goes shirtless, with long, loose baggy pants that a shinigami might wear. Around his waist is a rather strange belt, made of twine, and has a decoration of flowers, tassels, braided vines, silken thread, beads, and feathers. His shoes are really weird too.
Jewelry/Etc:
None
Other:
Always wears a long, large light orange brown scarf around his neck, and his often seen with a weird mask on his head. His wings, when spread out completely, are, from tip to tip, about fifteen feet. The feathers are a grayish-white in color.
Personality:
Unlike most of his kind, Aeolius isn't one for meditation, and he couldn't care less about perfecting anything except for his sword technique. He's hyper, a loudmouth, and always on the go. He enjoys causing trouble, but the fun kind and likes teasing the older elves in his home; plays pranks and is pretty much happy go lucky. He's super friendly, and another thing that separates himself from his kind is he likes to find new friends, and not often his own kind either. He's loyal, and when he finds someone to bond with, that bond is never easily broken. He's a strong believer in loyalty and friendship, and will often fight for it.
Saying:"Sometimes I wonder if my family just has clouds for brains...Cause for me, living free and doing what I want to do, flying and being in the sky, THAT is perfection...Yup."Likes:
*Fast flight
*Flying in general
*Pulling pranks
*Making new friends
*Practicing his sword playDislikes:
*Being told to calm down
*Being chastised for being different
*Rules
*Staying quiet for too long
*Staying on the ground for too long

Extras/Other:
Type:
Air Elf
Power/Ability:
Flight, Weather, Lightning, and Wind Control
*Can fly at a very fast speed
*Can control all sorts of different things to do with weather, and even create storms
*Can manipulate the elements of lightning and wind
*Can make his wings appear and disappear
*More revealed
Element:
Wind and Lightning
Theme Song(s): https://www.youtube.com/watch?v=DwJf2CP_KFA
https://www.youtube.com/watch?v=CHHVH4JLcPo
https://www.youtube.com/watch?v=qjh-Fh8NU_8