I know I have three already, but I'm so used to having more. Plus I've been planning on using this character anyway, so might as well put the sheet up now.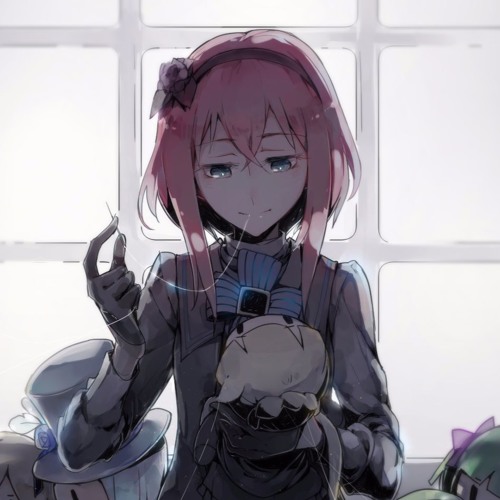 Main Information:

Name:
Yuki Mamojin
Nickname:
N/A
Alias:
Marionette
Age:
16
Birthday:
April 9th
Zodiac:
Aries (♈)
Gender:
Genderless
Race:
Human
Ethnicity:
Japanese
Home Country/Location:
Kyoto, Japan
Current Location:
Gotham City
Sexuality:
N/A
Health Information: Is bipolar, and is known to have sporatic bouts of rage, along with MPDBlood Type: B-Occupation:
Dollmaker, Villain
Family:
Yes, Yuuya Mamojin
Appearance:
Height:
5' 5" / 165.1 cm
Weight:
109 lbs / 48.9 kg
Eye Color:
Has light gray turquoise blue eyes, with black eyelashes and 'her' eyebrows are a shade darker than 'her' hair color.
Hair Style and Color:
Has medium-short length hair, however, two parts of 'her' hair that frame 'her' face are a bit longer than the rest, which reaches to just about 'her' shoulders, while the longer bits reach past 'her' collarbone. 'Her' bangs usually fall to the middle of her forehead. 'She' has dusty pink colored hair. 'She' usually wears some sort of hair piece in 'her' hair.
Skin Color:
Pale
Body Type:
Is extremely thin and is semi-curvy around the hips, butt, and leg areas
Markings, Tattoos, Scars, Other:
Has scars all over 'her' palms, and along 'her' feet and lower legs. Has what looks like stitches all over her body, and scars of what look like stitches. almost as if 'her' body had been taken apart and put back together.
Clothing Types:
Wears Victorian Lolita type clothing, usually dresses and such with bloomers or shorts underneath. 'Her' clothing is usually perfect, always looking the best, and making sure that 'her' outfits are always accessorized just right.
Jewelry, Other Stuff:
A bag filled with sewing supplies and other things
Voice:
Has a cutesy voice, but it makes people uneasy by how 'she' talks and the way 'she' says things
Personality Traits:
~Sadomasocist
~Manipulative
~Cunning, sly, and evil
~Malicious, barbaric and cruel
~Nasty/sick
~Amoral
~Bizarre
~Conceited/Egocentric
~Disputatious
~Fanatical
~Flamboyant
~Perverse
'She' may look sweet and innocent, but don't let that fool you for a second.
History:
TBR
Saying: "Like a ribbon wrapped around my finger, I can make you do what I want, whenever. Don't test me my little dolly, I WILL do it."
Extras/Other:
~There are brief moments when 'she' wonders why 'she' is doing what she is doing, if 'she' is, indeed wrong. But it doesn't last long, and 'she' goes back to 'her' usual self.
~Usually works alone, in both occupations.
Skills:
~'Her' ability is similar to Yuuya's, in the way that 'she' can create life through her dolls, which are much more detailed and more capable of different things. Unlike Yuuya however, 'she's' done the forbidden and has created dolls with human corpses before, calling them 'her; 'Masterpieces'.
~'She' can use threads to manipulate a person's movements and actions, very much like a marionette master, which is what gains 'her' Alias, Marionette.
Hobbies:
~Making clothes for her dolls
~Making sweets
~Making more dolls
Likes:


~Dolls
~Sewing
~Getting what 'she' wants
~Girly things
~Sweets




Dislikes:


~Yuuya
~Not getting what 'she' wants
~Being told no
~Getting 'her' clothes dirty
~Bitter foodSongs: https://www.youtube.com/watch?v=6mDQ6feQ0Nc
https://www.youtube.com/watch?v=BX6uyWOg4vY
https://www.youtube.com/watch?v=5-TZemfDO2Q