Name: Maggie Adler
Age: 22
Appearance: Maggie is 5'5 with a curvy built. She has blue eyes and long, blonde hair that is curled in a flapper style.
Personality: Good natured, friendly, strong willed, stubborn
Background: Maggie grew up in a small town, where the thrill of the week for her family was getting to go to the movie house. She grew up wanting to become a famous actress. Her family disapproved of it greatly, her parents wanted her to marry a nice boy and have children, just like her two older sisters had. While Maggie never said she didn't want a family, she wanted it to be her choice. She ran off to New York City one day to pursue her dream. Unfortunately, lots of other young women had the same dream. Maggie had trouble finding work and had to take a job as a typist during the day to pay her bills and afford groceries. One day she met Jack Simmons and he offered her a job singing at his club at night. While Maggie truly wanted to be an actress, she has a nice voice, and finds performing far more exciting then being a typist. What she didn't realize, until after she accepted the job, was that Jack owned a speakeasy. Even with Prohibition in full swing, it is almost exciting for Maggie to work there because of the risk. Plus, once the virus hit the city, Simmons' club seems to be the best place to be. Jack is willing to keep her safe at all costs.
Infected status: Not Infected
Other: The Adler family, consisting of her parents and two married off older sisters, disowned Maggie for running off to New York before the virus hit and have no idea if she is alive or not. She and Jack are also in a romantic relationship.
------------
Name: Jack Simmons
Age: 27
Appearance: Jack has black hair he cuts very short and brown eyes. He is 5'11 with an athletic built. Although born to a Caucasian father and an African American Mother, Jack's skin is light enough that he can pass for a Caucasian man.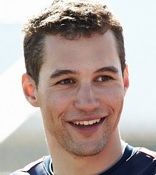 Personality: Athletic, intelligent, loyal, stubborn
Background: Jack is half African American but keeps it a secret. His father was Caucasian and his mother was a light skinned African American woman. It's a hard time for any minority and Jack learned at a young age to never correct anyone's assumption about him. He was the younger of two sons born to his family. His older brother, Jimmy, took after their mother in looks and Jack witnessed first hand the discrimination his brother faced and it often made him angry but knew there was not much he could do about it. The boys grew up in a small town, where for fun kids either played baseball or watched movies. Jack has always been athletic and loved baseball. He used to play baseball and was a big deal in his little town. He had big dreams of joining the New York Yankees and becoming a star. Jimmy joined him for the trip to New York, Jimmy loved music and wanted to become a musician,. Jack learned quickly that just because one is big deal in a small town, in the big city, everyone was somebody back home. He couldn't make it as an athlete but Jimmy's jazz career started to take off right before the virus hit. Although people enjoyed Jimmy's music, because of his darker skin, Jimmy was discriminated against and no one would sell him a club so he could promote his career. Jack, instead, bought a club for his brother and had been able to run it pretty successfully. When Prohibition hit, Jack turned their club into a very successful speakeasy. One day, he overheard Maggie singing to herself as she waited for a taxi cab. He thought she was the most beautiful woman he had ever saw and as an excuse to get to know her better, he offered her a job at his club.
Infected status: Not Infected
Other: To make sure people continue to believe Jack is fully Caucasian, Jimmy took their mother's last name and most people do not know they are brothers. Maggie does know their secret, however.
------------
NPC:
Jimmy Sawyer: Jack's brother. Unlike, Jack, Jimmy's skin is too dark to try and pass himself as a Caucasian, even though he is half Caucasian due to their father. He took their mother's maiden name so people did not learn the truth about Jack. He is the quiet partner in the speakeasy and performs there almost every night, playing Jazz.