Elodie had been sitting outside in the backyard of her home, enjoying the pleasant weather of the day. All around her were beautiful flowers of many colors, from red to pink, yellow and orange, white, and some purple. It was a rainbow of beauty, and it smelled amazing too. She'd been playing her flute for a short while, but at that moment was taking a rest, simply listening to the birds sing their own songs, and feeling the soft breeze brush against her skin.

Her eyes were closed, as she listened closely to the things going on around her, but opened them when she heard the telltale footsteps of her father coming out into the garden towards her. "Elodie, you have a letter." In his hand was indeed a letter, but Elodie knew not who or where she'd be getting one from. She had nearly no friends who would write to her or send her things, and that was the only reason she'd be getting a letter in the mail. Still, in a slightly hesitant way, Elodie reaches out and accepts the letter that her father handed to her, waiting to open it after he'd turned around and walked back towards the house.

The very first words caught her attention, Mystical Magical Mansion Academy. What was that supposed to mean? Reading the rest of the letter only confused Elodie more, wondering if this was some sort of prank from the younger children, or maybe from her old classmates. They weren't too kind to her, due to her timid and shy nature, always picking on her and making fun. And yet, she couldn't help but feel drawn toward the pendant that was within the envelope. It was very pretty and shone in the sunlight.

"I guess it won't hurt...to try it on..." She mumbles to herself, gently placing the pendant around her neck, though right as she did she felt sick to her stomach and felt like she was going to double over and get sick. Her eyes slide closed, and she felt like she was falling,
further and further, but the ground did not break her fall. She kept descending, and the only thing she could think was what would her father think? She couldn't help but worry, and she was slightly frightened as well. But after a moment, all thoughts emptied from her mind as she completely blacked out, unaware of what went on around her.

When she came to, she sits up, feeling rather groggy and tired. Where she had landed was unfamiliar, the grass beneath her was soft,
almost like a mattress of sorts. The reason why she'd woken was she was sure she'ed heard someone talking to her, welcoming her or something like that. With fuzzy vision, she looks around, one hand holding tight to the letter she'd received, and held in her other hand was her flute. What she was was not her garden, but somewhere else entirely. Worried expression forms on her face, and she couldn't help but feel like she was going to have a panic attack. "What...what is going on?"

It was starting to get late. Saburou had just gotten off work and was currently making his way back home via the bus/train. First was the train he had to take, which usually wasn't all that crowded, considering where he was going. His rural home wasn't all that large, with an estimated population of just a little over twenty-five hundred people. It had the best of both worlds,
being right next to a large body of water, and in the hills to the other side was a large forest. Even though it wasn't a big place, it was beautiful, and it was home.

After taking the train came the bus, which was a short enough ride from the station, and not after too long, just as the sun was starting to set along the horizon, he reaches home. First things first though he checked for mail since it had a habit of coming at odd times, and sure enough, there were a handful of envelopes and a large package with his name. It had to be the new baseball bat holder he'd ordered online.

As he walked through the front door to his house, or rather his family's home, yelling to let his mom know he was back, he shuffled through the other envelopes. A couple were to his mother and father, one was to his older brother, and the other was...for him. He looked at the front, wondering who had sent it. It was written in English, so it must mean it wasn't from around here or anywhere else in Japan. Which was strange since he didn't have any contacts outside of Japan.

Climbing up the stairs to get to his room, he goes inside and closes the door behind him, tossing his bag to the ground and taking off his uniform. Or rather, the pants that went with them. After changing into something more comfortable, he first opens the package,
and sure enough, it was what he'd ordered. Looking it over, he grabs his old baseball bat cover and opens it, sliding the metal and rubber bat out, before placing it inside the new one. He places the strap on his shoulder, then reaches for the envelope and opens it.

"Ittai nani??" He mutters, like the front of the envelope the letter itself was written in English. It was a good thing he knew the basics, or else he wouldn't have been able to read it. He got the gist of it though, something about some magic school, and that he'd been chosen to enroll. Not that he wasn't flattered or anything, he'd rather stick around at home to play baseball and chill with his friends. As he eyed the pendant, he shrugs. "Watashi wa sore ga dono yō ni mieru nodarou ka." Slipping the pendant over his head, he adjusts it a bit, along with his hat, but that's as far as he got.

It was almost right as he'd put it on he started feeling woozy, before the sudden sensation he was falling. "Nantekotta i?!" He says out loud, squeezing his eyes shut. This was crazy. Too crazy. He was not ready for something like this. Was opting out a choice? He wanted to stay home. Before any other thoughts could be thunk, he passes out completely, and only wakes up when his body hits very spongey ground.

He sits up, groaning, holding his hand to his head, the envelope dropping to the ground. "Ā... Sore wa itai..." He opens his eyes,
and looks around. For the most part he was alone, but he could slightly make out some sort of person in the near distance. "Nē! Ē... to..." He thought they probably didn't know Japanese, so switched to English. Though, to be honest, he wasn't all that good, and of course he had an accent. "Excuse me. Do you know the place we are at?"
_________________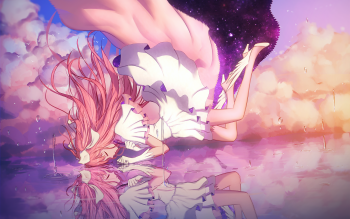 夢はこの部屋の中で
優しい歌をずっと君に歌っていた
何がほんとのことなの
一番強く信じられる世界を追いかけて
君の銀の庭へ

静かに寄り添って
何処にも行かないで
窓辺で囀って
何を失くしたって
Here is a link to my: characters
Kimi no Gin no Niwa | +