Sitting there, she watches, silently, as the questions were first answered, then asked again. Her eyes wander after a short while from the headmistress, glancing at the other students, noticing how one of them was looking at her. The other girl from before, the one she'd seen when Elodie had arrived, the one who had already been standing on the sidewalk, with the other boy. Why was she watching her? It made her nervous, and she quickly looks away, fidgeting slightly as she sat in her chair, her fingers fumbling a bit with the skirt of her dress, twisting and picking at the fabric, pulling off small pieces of fuzz and pretty much anything to keep her nerves calm.

She wasn't good with other people, and that was very obvious since she was sitting a few seats away from the others in the area they were at,
keeping herself distanced. The boy from before, the one who had been there before herself, asks about how they were to proceed with the events that were to happen, and of course, the headmistress promptly answers, saying a long list of different items, and explaining their meanings and what they were for. She slipped on the bracelent as was told, and when she'd held the aura charm, or at least that was what it was called, the colors went as follows: clear being at the top, the blue, third was brown, and last was red.

With each thing that was said, Elodie pulled them out and looked them over, memorizing their functions and the such. When it got to the cell phone part, and hearing that they could register other people, Elodie knew that hers would be an empty contacts list, except for the already added Headmistress. It made her sad, but at the same time, she didn't think too much on it. That was how her life had, and always would be. Lonely. She was too shy to make friends. Placing it to the side, she places the belt around her waist, and surprisingly it looked pretty decent with the dress she was wearing, not clashing in the least. To be honest, she wanted to know what they were to be actually doing here, why, and if they'd ever get to go home...but she wasn't brave enough to raise her hand, let alone speak out.

Having his question answered, he sits back down. So, there really WAS an answer to lingual problems, AND it was magic. He couldn't help but chuckle under his breath slightly at the hilarity and convenience of it all. If only the world's issues could be fixed with the flick of a wand, or the thought of one's brain. If only. But he doubted things were that easy, even in a place as this. He had no doubt that he was awake now,
for a while he thought it was just a dream, but after having pinched himself several times, painfully in fact, on the leg (no doubt the skin was red by this point) there was no fault in the reality as to the fact he was truly awake.

His eyes wander to the entrance to the place as another comes in, a girl, a bit late but not missing the party. She sits down, and he looks at her for a short while, seeing that she was hesitant, but who wouldn't be? It was pretty odd getting flung through dimensions to a place like this that was supposedly magic, and not even in the same galaxy as Earth.

Before he could really think of anything else, the whole thing continued on with a box suddenly being pointed out, and things being told to be taken out. With each new discovery, they were explained what they were, what their functions were, and why they needed them. Apparently, the woman was obsessed with the left, but he simply laughs it off, listening as he was told to put the bracelet on his left wrist, doing so, not really being fond of the fact he had to wear jewelry like this, but whatever floated the boat...or whatever the saying was for the place.

A weird looking charm rod thing was talked about, and as he held his own, the colors glowed, at the top is red, second was clear, third was brown, and fourth was blue. "Cool..." He mutters, grinning at the glowing rod charm thing, before going on to the 'lesson', picking up the cell.
Wait, magic people needed cell phones? Couldn't they just like...use magic mirrors? Or scrying stones? Or like, project their images in front of others? At the thought of that, he fights the urge to laugh, though the grin showed on his face. He takes a breath, tucking the phone away.

Putting on the belt as was told to, he felt a bit odd. This was a weird look, especially with the sweater and pants he was wearing at that moment. He wasn't sure how he felt about it, letting the top of his sweater fall over the top, covering it slightly. He looked around, watching as the others followed instructions as well. Though he couldn't help but wonder why people were not questioning the whole fact of it all. Why the heck were they there? Wasn't this...abduction? They'd been brought there against their will, not knowing who the hell the lady is, where the heck this place REALLY was, all of that. And yet...they were just going with it! Craziness, but a change of pace. Maybe he'd ask later. For now he shakes his head, his amusement glinting in his eyes.

_________________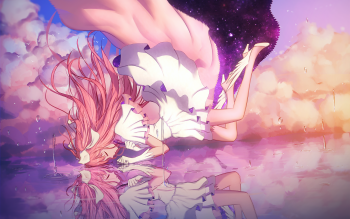 夢はこの部屋の中で
優しい歌をずっと君に歌っていた
何がほんとのことなの
一番強く信じられる世界を追いかけて
君の銀の庭へ

静かに寄り添って
何処にも行かないで
窓辺で囀って
何を失くしたって